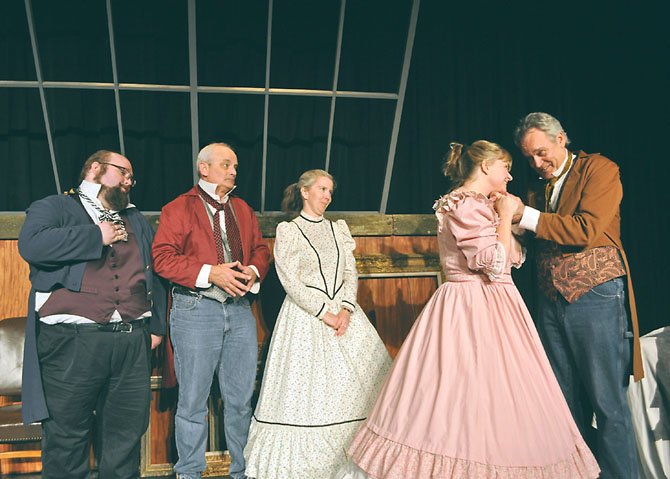 It is rare that a play written by one of America's iconic writers is found and produced a century after it was written. But the Providence Players are bringing to life "Is He Dead?" written by Mark Twain in 1898 and first published in print in 2003.
Where and When
Providence Players of Fairfax present "Is He Dead?" at James Lee Community Center Theater, 2855 Annandale Road, Falls Church. Performances May 31-June 15. Thursday, Friday, and Saturday 7:30 p.m., Sunday Matinees at 2 p.m. June 2 & 9. Tickets: $15-$18. Call 703-425-6782 or visit: www.providencepla...
Playwright David Ives, whose works have been seen at the Shakespeare's Theatre and Studio Theater in D.C., adapted the play for contemporary audiences in 2007 and it had a Broadway run.
"Is He Dead?" is a fictionalized account of a real-life mid-19th century French painter, Jean-Francoise Millet. In the Twain play the painter struggles to be recognized; his paintings are not selling. He is penniless. What should he do? With scenes reminiscent of the Carol Burnett Show with Harvey Korman and Tim Conway in their full-out lunacy along with some Marx Brothers thrown in, an idea is hatched. The male painter will stage his own fake death. He will return dressed as a quite flamboyant woman to fool people and help his artwork climb in value.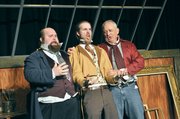 "Is He Dead" is full of deceptions, its share of physical comedy and a good bit of cross-dressing, according to veteran director Beth Hughes-Brown. The audience is in for "the time of their lives with this modern, snappy comedy." There will be plenty of winks and nods ala Monty Python with a full-of-life 16-member cast. There is even can can.
The lead role of Jean-Francoise Millett is played by Patrick David, who has appeared in many Providence Players productions. In an interview, David was all grins and twinkling eyes as he described his multi-character roles, calling the play "a timeless, broad comedy." When asked about his favorite lines, he broke out into a huge smile thinking about just which line to mention. "There are so many great lines and physical humor that go along with them," including when he is decked-out in a full fashion statement in his feminine character.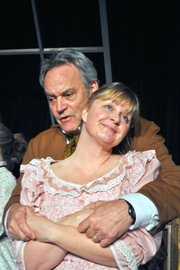 The Providence Players even enlisted the painterly skill of local professional painter Paul Hennesy. Hennesy painted the various works shown throughout the production that are attributed to Jean-Francoise Millett.
So, get ready for some out-right outrageousness with the Providence Players. Be ready to take in some delightful silliness along the way with the sightings of some unexpected, unlikely characters including one bigger than life "peerless Goddess."