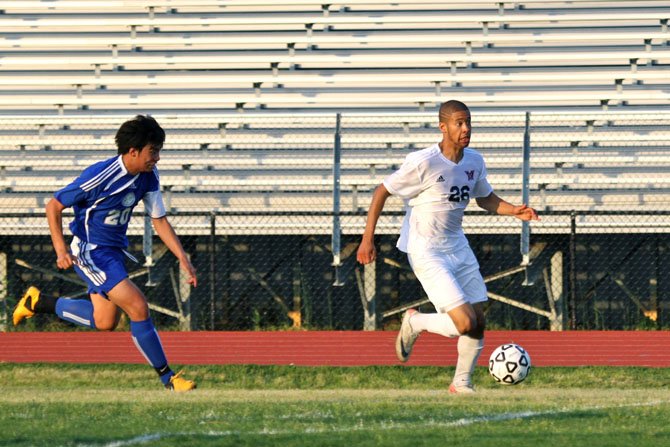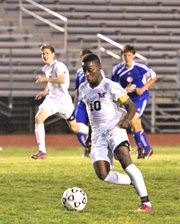 Mount Vernon — As members of the Mount Vernon boys' soccer team walked off their home field following a postgame meeting Tuesday night, head coach Tony Garza critiqued the Majors' performance during the opening round of the Northern Region tournament.
"They're finally jelling. They're finally clicking together," Garza said. "It took a whole season to do that, but they're playing better now."
Four days after repeating as National District champions, the Majors defeated Fairfax 6-2 in the first round of the regional tournament at Mount Vernon High School. The Majors built a 3-0 halftime lead, thanks to a hat trick by senior Rahim Costa-Dorsey, and cruised to victory.
Mount Vernon extended its winning streak six games and returns to the regional quarterfinals for the fourth consecutive season. The Majors will host T.C. Williams, the Patriot District's No. 3 seed, at 7 p.m. on Thursday, May 23.
While Mount Vernon is playing well at the right time as it attempts to make a deep postseason run, the Majors' 2013 campaign didn't start on such a successful note. Mount Vernon went winless in its first four games under first-year head coach Garza, dropping to 0-3-1 after a 1-0 loss to South Lakes on April 8. The Majors finished 14-2-2 the year before and brought home a district championship under thenhead coach Robert Garza, Tony Garza's twin brother. After the 2012 season, Robert Garza left Mount Vernon to become the head coach of the Robinson boys' soccer program. Tony Garza took over as head coach of the Majors after five seasons coaching the Mount Vernon girls' team, but the program's success from 2012 didn't carry over at first.
Tony Garza earned his first win with the boys' team on April 15, when the Majors beat Falls Church 4-0. But the Majors failed to sustain success, losing four of five at one point, culminated by a 2-1 loss to then-undefeated Hayfield on May 2.
"They're finally jelling. They're finally clicking together. It took a whole season to do that, but they're playing better now."

--- Mount Vernon boys' soccer coach Tony Garza
While the loss to Hayfield was Mount Vernon's third consecutive defeat, it proved to be a turning point for the better. Costa-Dorsey, a senior forward, and Lucas Belanger, a standout senior goalkeeper, had returned to the Majors after playing for academy teams. And even though Mount Vernon lost to Hayfield, Garza said the Majors played well.
"That game was probably the best we've played all season long," Garza said. "They beat us 2-1; no excuses, no nothing. When they beat us 2-1, the boys after the game, they were emotional. They were just completely spent. They all made a promise they wanted to see Hayfield again. I was like, you want to see Hayfield again, we've got to start a brand new season. … After that game, we just set our sights for a brand-new season and from there we just went straight on through."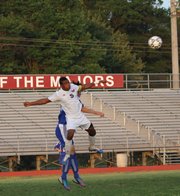 Mount Vernon hasn't lost since, including a 6-1 victory against Hayfield on May 17 in the National District championship game. On Tuesday, the Majors took control early against Fairfax as Costa-Dorsey found the net in the fourth minute.
"Rahim, I'll tell you, he's a Godsend to us, I'll be honest," Garza said. "The hardest thing [about defending him] is a lot of teams will doubleteam him because they know his capability --- which leaves our players open --- but he still has the ability and the skill to just break through them …"
Costa-Dorsey finished with three goals against Fairfax --- all in the first 33 minutes.
"I try to keep the morale up of the team," Costa-Dorsey said. "Soccer, you've got to have a passion for it. When you play out there, you've got to have fun. I try to get the guys to just have fun as if we were playing [in a] regular practice. I just want to have fun out on the field and score goals."
Mount Vernon senior captain Simond Kargbo scored two goals against Fairfax and senior Foday Sillah added one.
The Majors have talked about the breaking the "curse" of the quarterfinals. Mount Vernon hasn't reached the third round of regionals since 2005, according to Tony Garza, who is also the assistant director of student activities at Mount Vernon High School. The Majors will have another opportunity to end the "curse" Thursday night, when Mount Vernon hosts T.C. Williams. The Titans won the teams' regular season matchup, 3-0, on March 21.
"The way I feel," Kargbo said, "the only the team that can beat us is ourselves."