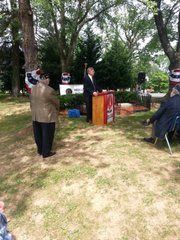 "As the beautiful inscription says, they kept the faith of their fathers."
-Michael Montie, McLean Post 270
McLean Post 270 of the American Legion hosted a Memorial Day ceremony at McLean High School on Monday, May 27. The event drew members of Post 270, their families, local leaders and community members as they gathered to dedicate a memorial stone in honor of the fallen service members of the Korean War.
The dedication ceremony added a memorial stone to a growing site honoring fallen service men and women. Michael Montie, a legionnaire in McLean Post 270 and organizer of the Memorial Day event, explained in his speech the history of the site: "This Memorial Grove had its beginning when the Class of 1990 purchased the memorial stone dedicated to those who fought and died in the Vietnam War. As the beautiful inscription says, they kept the faith of their fathers. The Vietnam stone originally was placed at the foot of the school flagpole."
Subsequently in 2005, the site was further developed to include a memorial stone for all McLean High School graduates who place themselves in harm's way and die in the line of duty. This includes police officers and fire fighters in addition to members of the armed forces. Then in 2011, an additional stone was dedicated commemorating World War II's fallen heroes.
With attendees looking on, Montie's speech served as a reminder never to forget the sacrifices previous military officers have made, noting that "veterans of every war identified in the Grove are here to remember and honor our lost comrades who paid the ultimate price for the freedom and safety we now enjoy. … It is the solemn obligation of every American to join us, their comrades, and remember their sacrifice."
With the addition of the Korean memorial stone, the Memorial Grove has one stone left to add. It will hold a ceremony honoring the fallen service members of the Global War on Terrorism this coming Veterans Day.