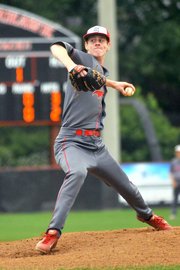 Vienna — First-year Marshall baseball coach Aaron Tarr stressed the importance of keeping the Statesmen loose during an interview following their regional quarterfinal matchup with Centreville on Monday.
He even shared a joke with reporters.
"We went from [a] 5-13 [record] to 10-14 now, and that's kind of the running joke now," Tarr said. "We go out there and we're like, now we're at 10-14; if we win the state, we can get back to .500."
Marshall defeated Centreville 5-4 during the Northern Region quarterfinals at Madison High School, setting up a semifinal matchup with defending state champion Lake Braddock on Wednesday.
The Statesmen find themselves one win shy of a berth in the AAA state tournament despite losing their first seven games of the 2013 campaign and entering their regular-season finale with a record of 5-13.
MARSHALL CLOSED THE REGULAR SEASON with a win against South Lakes and beat Thomas Jefferson in the opening round of the Liberty District tournament. The Statesmen then upset McLean in the quarterfinals to earn a berth in the regional tournament.
After losing to Langley in the Liberty semifinals, Marshall responded by defeating National District champion Washington-Lee in the first round of regionals before knocking off Centreville, which finished atop the Concorde District's regular-season standings.
If Marshall continues its improbable run with a win over Lake Braddock in the semifinals, defeats either Oakton or South County in the region championship game and gets the additional three wins necessary to capture the state championship, the Statesmen would finish the season with a 15-14 record.
"It's so much easier to play with the house money the way that we're playing. It just is," Tarr said after Monday's matchup with Centreville, which followed an earlier quarterfinal contest between Lake Braddock and Madison. "That wasn't our most crisp game. We made some mistakes. But you can see from everybody who played on this field today: everybody's nervous. They are. Everybody's a little bit terrified. We're a little bit less terrified than everybody else because we weren't really supposed to advance to this point, anyways."
"We went from 5-13 to 10-14 now, and that's kind of the running joke now. We go out there and we're like, now we're at 10-14; if we win the state, we can get back to .500."

--- Marshall baseball coach Aaron Tarr
Tarr's insistence on the Statesmen remaining relaxed is a product of their success in the underdog role. But is there any chance the team's mental approach changes after beating a team like Centreville, which is considered one of the top hitting clubs in the region?
"We have to keep the house-money approach because the one thing that debilitates people at this time of the year is that they get freaked out by the enormity of the situation," Tarr said. "For us, I don't want them starting to go through their heads saying, man, if we just win this game we're gonna go to states, because if they start doing that, then they're going to freeze."
The Statesmen didn't freeze against Centreville, thanks in part to the pitching performances of Riley Cummins and Mike Evans. Cummins, a junior left-hander, started and earned the win for the Statesmen. He allowed four runs --- three earned --- on six hits in five-plus innings. He walked three, hit one batter and struck out two.
Evans, who missed time due to a knee injury early in the season, pitched a pair of shutout innings to pick up the save. He allowed two hits and struck out four. After surrendering back-to-back two-out singles in the seventh inning, Evans ended the game with a strikeout.
"I knew once I made it through that fifth inning," Cummins said, "[Evans] over there is going to come in and finish off the last two, which he did."
Marshall struck first with three runs in the top of the third inning. Shortstop Alec Dolton drove in the game's first run with a single. Three batters later, third baseman Kekoa Yamaguchi delivered a tworun triple to right-center.
"Kekoa Yamaguchi is on an absolute tear of tears," Tarr said. "You can't put the ball over the plate to him."
Centreville answered with three runs in the bottom half of the inning, including a two-out, two-run single by Danny Russell, but Marshall took the lead for good with two runs in the top of the fourth. Brian Lenert drove in the go-ahead run with a single and Dolton gave the Statesmen a 5-3 advantage with a sacrifice fly.
Centreville scored one run in the bottom of the fourth but would not score again.
"I kind of expected us to win," Yamaguchi said. "Especially [with] how good we've been playing the past weeks."
Dolton went 2 for 3 with two RBIs, Yamaguchi finished 2 for 4 with a double and two RBIs, and Lenert was 2 for 3 with an RBI.
Cummins and Will Brooke each produced a single for Marshall, and Evans had a double.
Marshall will face Lake Braddock in the semifinals at 7 p.m. on Wednesday at Madison High School.
"We have nothing to lose," Cummins said. "These guys were state champions last year; we weren't expected to go past our district. We're just going to go out there and leave it all on the field and [have] no shame if we lose, but keep on rolling if we win."