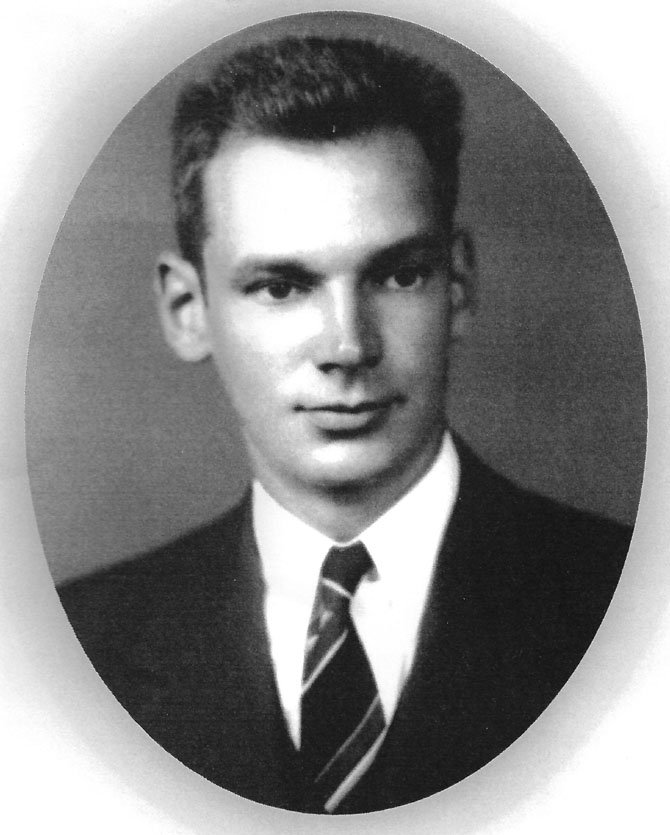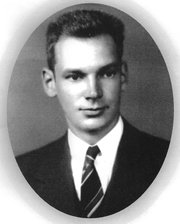 Born in New York on Oct. 18, 1916, John Jacob Krafft moved with his family to the city of Alexandria at the age of 5. He was one of seven children of Jacob Martin and Augusta (Hiertrierter) Krafft. He grew up in Alexandria on the west corner of Cedar and King Streets across from the Masonic Temple. One of his favorite childhood memories was climbing on the scaffolding as the Temple was being constructed.
He attended St. Mary's Catholic School in Alexandria and for high school he graduated from McKinley Technical School in Washington, D.C. In order to get to school, he walked to the streetcar in Old Town that took him to the bus in D.C. After graduating from high school in 1934, he attended George Washington University and studied mechanical engineering.
He was on a double date with a friend and met his future bride, Dana Barrett, who was a cartographer at the National Geographic. It was love at first sight and they were soon married and living on 10th Street NW in Washington, D.C. He opened a sheet metal shop in Georgetown, the Krafft Company, where he manufactured ductwork for residential heating systems. He was inducted into the army in 1943 and served in WWII in the Engineering Construction Battalion stationed in the Pacific theatre. He was honorable discharged with the rank of sergeant in 1946. Upon his return home, he reopened his business on Four Mile Run in Arlington. There he devised a method to utilize airplane scrap fuselage for the manufacture of ductwork. With the advent of air-conditioning, he expanded the business to include the sale of both heating and cooling systems. He designed the "Krafft-Pack" Air Handler to meet the need of residential air-conditioning.
In the early 1960s, he purchased property in the undeveloped West End of Alexandria. There he built the facility which remains today as the headquarters of Krafft A/C Service Corp. He was one of the founding fathers of the Air Conditioning Contractors of America and served as its second president. He was also involved with the founding of Ascension Academy, a private Catholic school for young men in the City of Alexandria.
Besides being a successful entrepreneur and businessman, John had a love for the great outdoors. He was an avid sailor, hunter and fisherman. He and his wife loved to travel and saw much of the world during their 50-plus years of marriage. Together, John and Dana raised two children, a son Jay, and a daughter, Ann.
Following his retirement from Krafft Service, he developed the property on Edsall Road and created Edsall Center. He played tennis and studied German, continued to travel, and learned to use computers. After the death of his wife in 1996, he marveled at the rapidly changing world through the eyes of his four grandchildren — Allie, Dana, Nicole and Michael. Despite the challenges of old age, he continued to stay active well into his 90s.
He died on May 20, 2013.