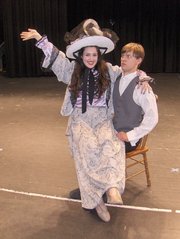 Ostentatious handmade hats, slap-on-the-knee antics and a fast-talking matchmaker all made for a wild night of romantic love and unexpected surprises in Fairfax High School's production of "Hello, Dolly."
Based on Thornton Wilder's "The Matchmaker," this classic musical was written by Michael Stewart with lyrics by Jerry Herman. The beloved show has earned great acclaim, winning 10 Tony Awards, including Best Musical for its 1964 original production, and was even made into a film of the same name in 1969. "Hello, Dolly" tells the story of matchmaker/dance instructor/music teacher or rather "meddler," Dolly Levi, who is hired to find a wife for the grumpy half-millionaire Horace Vandergelder. But little does Horace know that Dolly really intends on having him for herself. However, an adventurous trip to New York City ending in chaos and an unjust court-trial results in an unexpected romantic happily-ever-after for all.
Many characters stood out in the show. Dolly Levi (Alexandra Nicopoulous) wowed the audience whenever she was on stage. Not only did her impressive character choices shine through when she spoke, but her royal Broadway-worthy voice continuously raptured the audience, as well. Not to mention, the magnetic chemistry of the two friends and co-workers, Cornelius (Will Park) and Barnaby (Derek Yost). These two immature boys never ceased to have the audience crying from laughter. In the beginning of the show, slapstick physical acts were at times sloppy, some of the cast lacked energy and some actors lacked character depth; however, these three weaknesses steadily disappeared as the show progressed.
Fairfax High's performance of "Hello, Dolly" was successfully led by its solid orchestra. From its upbeat tunes dominated by the trumpets to its passionate moments guided by its melodious woodwinds, the pit orchestra consistently blended well with the cast. A few untidy scene transitions took a bit away from the performance, however the vivacious lights added lustre to the show.
By the end of the show, audience members were "aww"ing because Dolly and Horace's big kiss was the cherry on top. Fairfax High School proved to its audience that it truly does "take a woman."