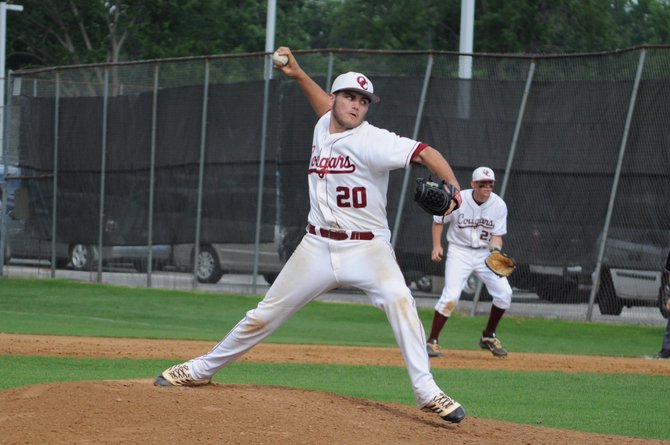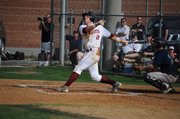 Vienna — With Scott Dunn and Patrick Campo unavailable to pitch after combining to throw 13 innings during Monday's marathon victory over Langley, the South County baseball team surrendered eight runs Wednesday while using three other hurlers.
Meanwhile, the right arm of RJ Gaines was more than enough for Oakton.
Gaines tossed a complete game and the Oakton Cougars defeated the South County Stallions 8-1 during the Northern Region semifinals at Madison High School. Oakton advanced to the tournament championship game and secured a state berth. The Cougars will face Lake Braddock for the region title at 6:30 p.m. Friday at Madison.
Gaines allowed six hits and one unearned run. The junior right-hander walked one and struck out three while working quickly on the mound.
"[The] faster I work on the mound," Gaines said, "[the] faster I can get my offense up there [to] produce runs [and] get back in there [to] keep it going."
Gaines threw 103 pitches against South County, 70 for strikes.
"He gets a good pace and that keeps your defense in it, keeps your team interested and that's big," Oakton head coach Justin Janis said. "Especially when he's doing that and throwing strikes; [it's] a good mix."
"[The] faster I work on the mound, [the] faster I can get my offense up there [to] produce runs [and] get back in there [to] keep it going."

--- Oakton pitcher RJ Gaines
Oakton struck first in the bottom of the third inning when second baseman Joey Bartosic drove in a run with a double. A South County throwing error gave Oakton its second run, and designated hitter Tommy Lopez was hit by a pitch with the bases loaded, giving the Cougars a 3-0 advantage.
Oakton added a run in the fourth with an RBI single from Bartosic, and scored two more in the fifth, including an RBI double by Conor Flanagan.
Right fielder Brian Burns blasted a two-run home run to left in the sixth, extending Oakton's lead to 8-0.
South County center fielder Mitchell Hayes broke up the shutout with an RBI double with two outs in the seventh inning.
Bartosic, Oakton's leadoff hitter, finished 3 for 4 with a double and two RBIs.
"When we kind of go, he sets the table for us," Janis said. "He's been pretty good the last couple weeks, so hopefully he can keep that going, too."
Oakton freshman third baseman Joe Rizzo went 2 for 2 and reached base all four of his plate appearances.
Hayes, catcher Keaton Tettelbach and shortstop/pitcher Michael Smith each had a double for South County.
Two days earlier, South County defeated Langley 4-3 in 13 innings during the regional quarterfinals.
"I think it had some effect," South County head coach Robbie Smith said. "That was a lot of energy that was spent. Thirteen innings is an incredible game. It's hard to come back after a game like that and play your best. I think we were just a little flat."