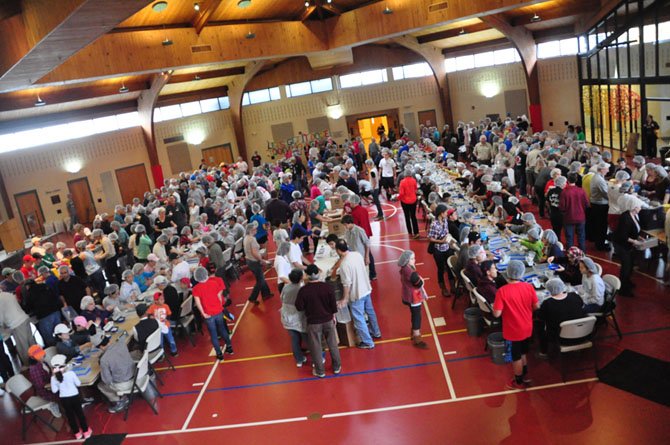 McLean — Several years ago, Bob Hahne was attending a Rotary Club district conference when he learned about an organization called Stop Hunger Now. The nonprofit hosts community meal-packing events that provide nonperishable, nutritious meals to hungry people around the world.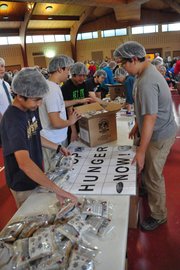 On the way home from the conference, Hahne and his wife Barbara decided that they should not only bring Stop Hunger Now events to McLean, but they should do it in a big way.
On Saturday, Nov. 3, Hahne watched as hundreds of volunteers helped hit a major milestone.
"This event, where we just saw the one millionth meal packaged here in this room at the Lutheran Redeemer, has been years in the making," Hahne said. "It's a great feeling, and it could not have been done without the help of thousands of volunteers who came to the events and helped us make a huge difference for a lot of people."
HAHNE'S WIFE BARBARA passed away in September 2011, and Hahne said he vowed to her on her very last day that he would complete the promise they made to each other.
Volunteers from the Boy Scouts, Girl Scouts, Langley High School Girls Volleyball Team, McLean High School Cheerleading team, Westfield High School Baseball Team, Church of Jesus Christ of Latter-day Saints, Lewinsville Presbyterian Church, Deloitte and more were part of Saturday's packaging event.
The first event was held in November 2010, where volunteers packed 100,000 meals. Since then, the number has gone up each time, with an event that packaged 150,000, then 200,000, then 250,000 and now 300,000 on Saturday, Nov. 3.
"These meals have, and will continue, to go to school feeding programs, orphanages, hospitals and senior homes in places like Romania, Haiti, Malaysia and Vietnam," said Dominic Alexander, program manager with Stop Hunger Now. "The meals packed here today will go into a shipping container, which will be picked up Monday and sent to the Baltimore port, where it will be put on a ship going straight to Haiti."
The meals are designed to feed malnourished individuals, particularly children, and consist of several ingredients. White rice and textured soy protein are combined with a dried vegetable blend, consisting of carrot, onion, tomato, celery, bell pepper and cabbage.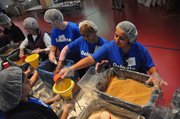 To top it all off is a seasoning packet that contains 21 different vitamins and minerals.
"Most of the people getting these meals are highly malnourished, especially protein deficient," Alexander said. "The people that get them localize them as well, for example, in Haiti they add black beans to make it more of a traditional dish."
AFTER SO MANY EVENTS at the Lutheran Redeemer, the process is now as efficient as an assembly line. Volunteers manned five different parallel rows of tables stretching across the whole room, each with its own function.
One group of volunteers brought 50 pound bags of protein and rice, as well as 40 pound boxes of vegetables to the outside tables. Another group measured and packed the bags, each of which contains six one-cup servings, and then passed it to the next row, where bags were weighed and sealed.
They're then packed 36 to a box, which is put on a pallet, and loaded into a shipping container. Each meal costs approximately 25 cents and is good for up to four years.
"As I was walking down the aisle during one of the shifts today, a man came up to me and just gave me a hug," Hahne said. "He said he had lived in a refugee camp at one point, and he knew firsthand what a hot nutritious meal can do for people in need, and that's exactly who we do it for."
More information on Stop Hunger Now can be found at www.stophungernow.org.