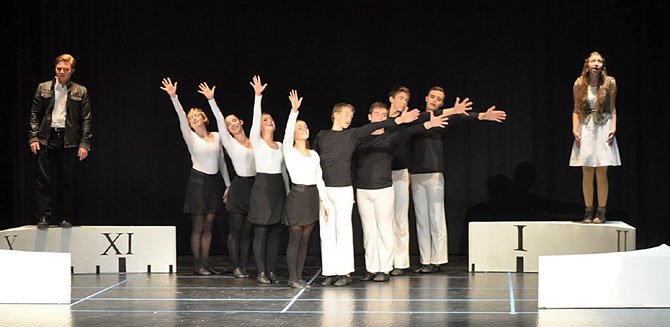 The McLean High School Theatre Company (MTC) earned nine awards and recognitions at the Virginia Theatre Association's (VTA) 2013 Conference awards ceremony Oct. 27, in Reston. MTC's production of Jason Robert Brown's "The Last Five Years," performed as a special 45-minute format, garnered five awards led by a special Judges Award for Best Musical Presentation and overall Honorable Mention for the production. Four company members also received individual recognition in the Design Competition in Costume and Scenic Design categories. MTC was recognized from among 44 productions put up by high schools from throughout the commonwealth.
McLean High School, with 94 registrants, brought more attendees to this annual event than any school has ever brought to the conference. Along with the two overall production awards, MTC's performance of "The Last Five Years" also earned three additional awards. Alex Stone (Junior), appearing as Jamie, received VTA's Best Actor
Award. VTA also bestowed two special merit awards for the production – to Marielle Burt (Junior) for Student Choreographer and the production's entire supporting cast for Dance Ensemble. In the individually entered Design Competition, four MTC members earned awards. In the Costume Award category, Gillian Wright (Sophomore) received 2nd place, Miranda Creason (Junior) placed 3rd while
Isabel Zapata (Junior) received Honorable Mention. In the Scenic Design category, Emily Robinson (Sophomore) received 3rd place.
MTC next presents Annie opening the Friday after Thanksgiving and continuing for a two-weekend
run, Nov. 29 – Dec. 7. In this fun-filled adventure, Annie and her lovable mutt Sandy foil Miss Hannigan's evil machinations and find a new home and family with billionaire, Oliver Warbucks.
For ticket information, visit www.mcleandrama.com.