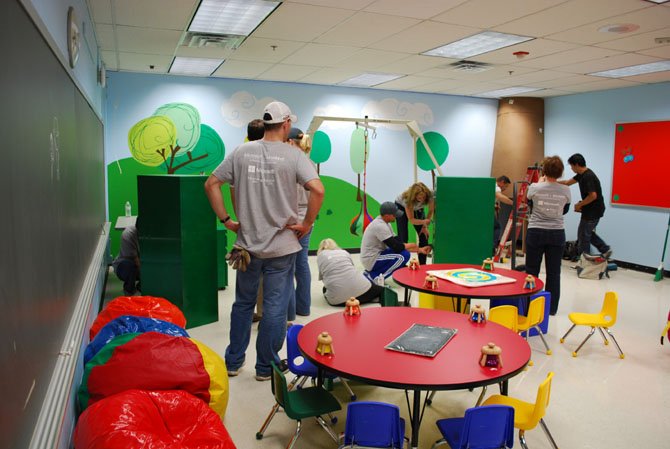 On Saturday, Nov. 2, more than 150 volunteers from Microsoft joined the non-profit Monkee See-Monkee Do (MSMD) at Lynbrook Elementary as the Lynbrook Leprechauns became the beneficiaries of a miracle school makeover. The Springfield school buzzed all day long as moms, dads, teens and kids became painters, artists, landscapers, builders, and beautification experts for a day.
The school makeover, for which Lynbrook was selected among nominees submitted to Monkee See Monkee Do, had several projects in need of some TLC. The team completely transformed the Sensory Room, from stark white to a multicolored scene complete with murals and new specialized equipment and technology. Under the vision of Lynbrook Principal Mary McNamee, the team also provided an entirely new Family Learning Center, a hub for Lynbrook students' parents who come to the school to get additional training, learn English, and find community. From new Microsoft Surface devices to a child play center and new sitting area, the Family Center doubled in size and functionality.
"We've been raising money and planning for this day for many weeks now," said Michelle Giammanco, the Microsoft Director who served as manager of the project. "Each year through our Employee Giving Campaign, my colleagues step up to big challenges and this year's work to create some special spaces for the Lynbrook community was no different."
Microsoft employees donated more than $25,000 for the Lynbrook project, which includes matched cash equivalents by the company. MSMD and its community donated approximately $30,000.
Lynbrook Elementary School serves more than 600 students, more than 76 percent of who are English language learners and over 84 percent of who are eligible for free or reduced price meals.
"We can do hard things," said Glennon Doyle Melton, the founder of MSMD and its parent Momastery.com blog, as she ended the day at a celebratory rally in the school gymnasium. "In the end, love wins when we just show up."