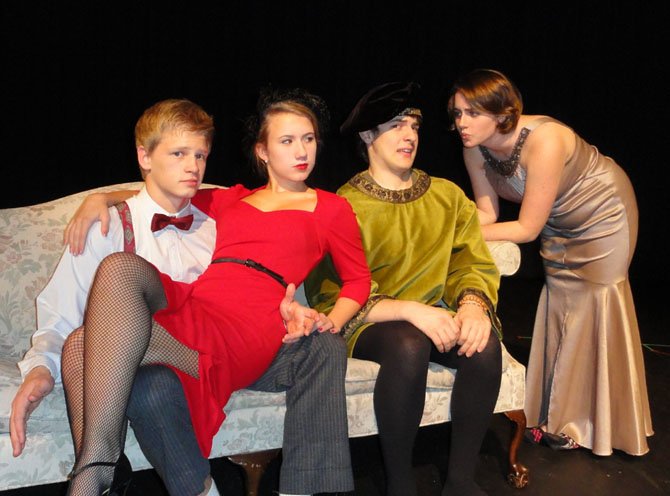 Get ready to laugh — Centreville High's upcoming play, "Lend Me a Tenor," is a zany comedy filled with mistaken identities and a rollicking good time for the actors and audience alike.
Show times are Friday-Saturday, Nov. 15-16 and Nov. 22-23, at 7:30 p.m. Tickets are $10 at the door.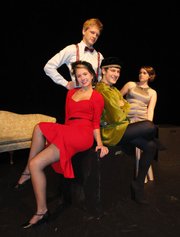 A farce written by Washington, D.C. playwright Ken Ludwig, it's about world-famous opera star Tito Morelli who's performing just one night in Cleveland. The show's sold out and everyone's eager to hear him sing "Otello."
"But he arrives ill and, by the end of act one, people think he's died," said Centreville Director Mike Hudson. "So others have someone else take his place on stage and hilarity ensues. It's dialogue-intensive and is going to be a great show because the kids really get the comedy and understand what a farce means."
The show takes place in a hotel suite in 1934 with costumes and scenery reflecting the time period. Hudson said the audience will love the comedy, the actors' "impeccable timing," plus their "simultaneous entrances and exits revealing the plot's complexities. We have a very talented and energetic cast and an equally talented technical crew, so it should provide for an enjoyable evening's entertainment."
The assistant director is senior Maddie Helms, giving actors their lines in rehearsal and taking notes on their performances. "I like it a lot," she said. "I've been onstage and done tech work, but I enjoy having a supervisory role. And it allows me to learn as I'm doing it."
Classmate Jeremy Pritchard chose the general concept for the costumes and then, consulting with Hudson, put together each outfit. And, said Helms, "The costumes really fit the individual characters and help the actors portray them."
Playing Italian tenor Morelli is junior Josh Ewalt. "He acts like his life's an opera — he's loud, dramatic and a chronic womanizer," said Ewalt. "He's married, but he and his wife have a volatile relationship. People will have a lot of fun laughing at the weird situations he manages to get himself into."
Since Ewalt's done most of the foreign-accent roles while at Centreville, he's having fun with this role and his over-the-top character. "He has lots of physical comedy, too, running around, falling over chairs and throwing things," said Ewalt. "This play keeps the audience wondering what the characters will do next because it's just one crazy thing after another."
Senior Connor Mitchell portrays Max, an assistant to Saunders, the head of the Cleveland Opera House. "Max is ambitious, but shy," he said. "So when Tito's late in arriving — even though Max has no stage experience — he volunteers to perform, instead. But he stutters as he says it. He really likes Saunders's daughter Maggie, but she's looking for someone better off than he is. But Max gains confidence throughout the show."
Mitchell enjoys his part because "Max isn't like me; he's insecure about who he is, while having ambition. And he gets into really funny and unrealistic circumstances."
He said the audience will love the whole plot. "Romantically, it's hysterical," he said. "They'll also like the situational irony; because the audience knows more about what's going on than the characters do, they'll really laugh at them. It's a goodhearted play and a fun time — they'll leave the theater happy."
Junior Nora Winsler plays Diana, the opera's soprano. "She uses her looks to get ahead in her career," said Winsler. "She's very confident and makes sure she gets what she wants. It's really fun; this is the first straight play I've been in — I'm usually acting and dancing in musicals."
"My character has a lot of funny lines that I can really do a lot with," she continued. "It's a well-written part and I like my role. In real life, I'm a soprano training for opera, too." Winsler said the audience will especially like the show's comedy. "There are so many times when two characters are talking to each other about two, different things," she said. "The audience knows what's happening, but the characters don't. People are hiding in closets and the characters get confused about people's identities."
Portraying Maggie Saunders is senior Ashley Leightley. "Maggie's bubbly and trying to figure out who she is and what she wants in a relationship," said Leightley. "She's a sweet and down-to-earth girl with a sassy side. She's learning what love is and deciding who she wants to spend the rest of her life with."
Leightley enjoys her part because "I see a lot of myself in the character. I can experiment more in how I'm portraying her, so I play her as more upbeat and enthusiastic than insecure." Besides the show's broad humor, she said audiences will also appreciate the small, funny moments.
"The relationship between the characters is the best part," said Leightley. "People will like all their witty comments and seeing how they react to each other and to what other people say. And they'll also enjoy the costumes, especially Max's and Tito's opera outfits. It'll be a great show."