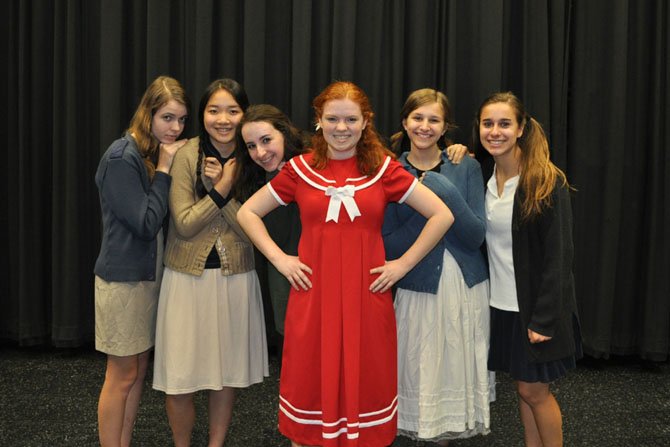 The McLean High School Theatre Company (MTC) kicks off the holiday season with "Annie," opening the Friday after Thanksgiving. Artistic Director Amy Poe leads this award-winning company in bringing this family-friendly favorite to McLean and the greater DC community.
Senior Nancy Pruett leads the cast as Annie. Junior Rachel Lawhead and Jack Posey appear as Miss Hannigan and Oliver Warbucks respectively. Thomas Kelty and Nicole Sheehan, both sophomores, play Franklin Roosevelt and Grace Farrell in turn.
Director Amy Poe says, "We base the show's feel and design on the 1920s Orphan Annie comic strip. Through the prominent use of newspaper fonts, pop art, and cartoon-types of drawings in the set, lighting and costume design, we hope the audience will have a palpable sense of being in the timeless cartoon strip itself."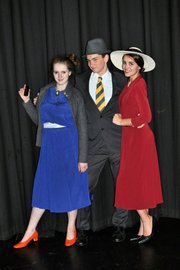 It has become a bit of a tradition for MTC productions to take a different take on whatever show is put up. So while audiences will certainly hear those great tunes including "Tomorrow," "It's a Hard Knock Life," and "Easy Street," they will also see a take on Annie that will be new to them and one which will be especially engaging.
Annie runs Nov. 29--Dec. 7, at the Burks Auditorium, with performances Fridays and Saturdays at 8 p.m., Saturday matinees at 2 p.m. with one Thursday performance, Dec. 5 at 8 p.m. Tickets range from $10-15.
Annie understudy performances are scheduled for the Nov. 30 and Dec. 7 at 2 p.m. as well as the Dec. 5 shows. For more information and tickets, visit www.mcleandrama.com.
McLean Theatre Company comprises students, parents and teachers at McLean High School working together to produce challenging and award winning theatrical productions. The home of McLean Theatre Company is the 700 seat Burks Auditorium and the more intimate 75 seat Black Box Theater at 1633 Davidson Road, McLean.