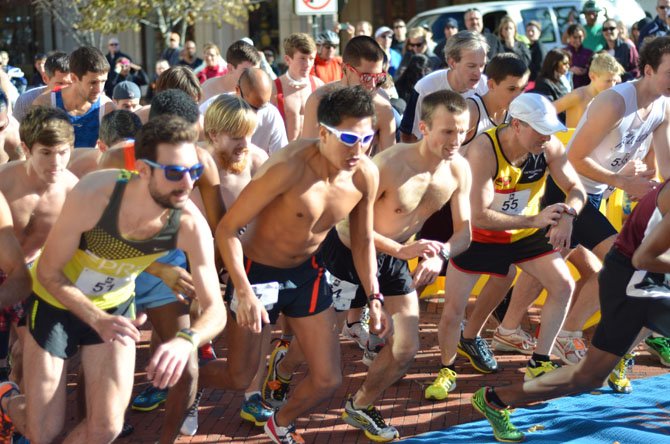 On Saturday, Nov. 9, Reston Town Center was filled with visitors who came to participate in the Nearly Naked Mile. Kelly Kavanaugh, a head coach at Potomac River Running, was emceeing the race. "It is a great race that benefits burn victims at Medstar Washington Hospital Center," said Kavanaugh. The event had a total of 560 people registered to participate, with a registration fee of $30.
Runners were welcomed to dress in attire that made them feel comfortable. Among those participating in this year's race was Rudy Arca who suffered from 2nd and 3rd degree burns in October 2012 and was transported to Medstar Washington Hospital Center. The Burn Center at MedStar Washington Hospital Center is the only adult burn treatment center in the Washington metropolitan area. "I have benefited from the burn unit and now am racing this year," said Arca.
The event was presented by the Northern Virginia FOOLS and Potomac River Running. Dan Keyes, firefighter at Fairfax County Fire and Rescue and resident of Ashburn was representing the Northern Virginia FOOLS at the beer garden set up near the Reston Town Center pavilion. "This is our biggest event… I helped organize this event for three years," said Keyes. He is the Vice President of the Northern Virginia FOOLS, which comprises firefighters of all ranks from Fairfax County, Arlington, Alexandria, Prince William County, Loudoun County, Fairfax City, Manassas City, and Manassas Park. It includes career, part-time, volunteer and retired firefighters.
"This is my first time running this race," said Kristin Swisher. "It turned out to be nice weather, and there was a great crowd out as well." Swisher and her husband Benjamin Swisher joined in from old town Alexandria.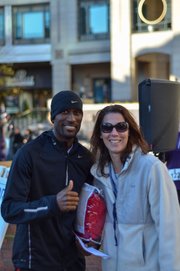 Moïse Joseph, a Haitian middle-distance runner who competed in the 2004 Olympic Games in Athens, ran in the men's competitive mile or male elite race. "It is a great race," said Joseph. "The environment is wonderful." The Northern Virginia Firefighters Emerald Society Pipeband also attended and performed as runners completed their races.
The Nearly Naked Mile race was split into five categories or heats: male elite, female elite, 6-8 minute division, 8-10 minute division, and the 10 minute or more division. Each race is electronically timed using the IPICO tag system. For the Male Elite, open winners were 1st place Moïse Joseph with a chip time of 4:20, 2nd place Baisa Ktesa with a chip time of 4:21, and 3rd place Kevin McNab with 4:22.
For the Female Elite, first to cross the finish was Silver Spring resident Tadessse Desta with a chip time of 5:00. Second place went to Kristin Swisher with a time of 5:00, and third place went to Susanna Sullivan of Falls Church with a chip time of 5:01.
For more information on the Nearly Naked Mile, visit http://www.prraces.com/naked