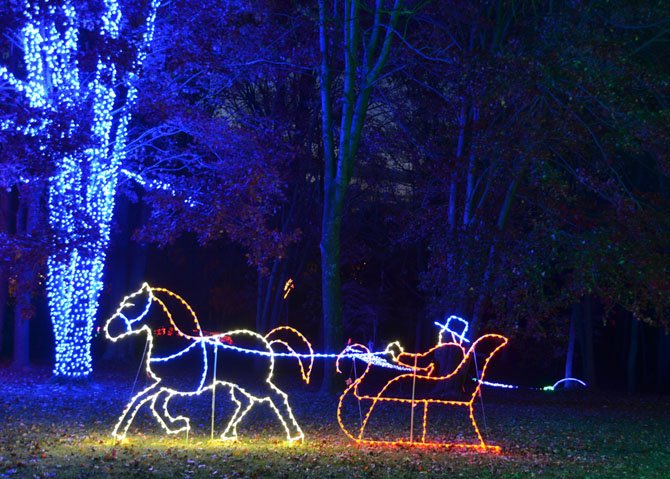 On Nov. 1, the Meadowlark Gardens offered a sneak peak at their Winter Walk of Lights lightshow. In the lightshow, a total of about 500,000 LED lights will be on display for about six miles of trail at Meadowlark Gardens Park in Vienna.
"This is our second year, so it is still a pretty new event," said Elise Pittrizzi, a resident of Fairfax and program specialist at Meadowlark Park. "People can bring camera equipment to capture the pictures. Tickets went on sale at beginning of the month and we have already sold a good number." The show will feature two mascots that make nightly visits to the Winter Walk, Flurry the Snowman, and Molasses the Gingerbread Man. Both mascots are willing to pose for photos.
"It is a bigger event then we first thought it would be and we are excited about it. We have lakeside lights, which is our animated light show, and it plays throughout the night. We will have a fire pit and concession stand, where we will have plenty of snacks," Elise said.
Casey Pittrizzi, a naturalist with the Northern Virginia Regional Park Authority and husband to Elise Pittrizzi, was also attending the evening event. "We always appreciate feedback from visitors," Casey said. "There was lots of positive energy from last year's event."
Tim Jordan, a member of the Reston Single Parents Meetup Group was also attending along with some friends. "We had a good time and the kids were able to play in the wide open spaces. I'm sure we will be back later," said Jordan. The Winter Walk of Lights is a ticketed event, with tickets available for purchase both online and on location.
The official opening night for the light show is the 15th of Nov. 15, and the show will continue until Jan. 5, 2014. Most of the wire light displays are unique, and only exist at Meadowlark. This is a "rain or shine" event and the light show will only closed for extreme inclement weather. Call 703-255-3631 for updates. To learn more about the light show, visit the website at www.nvrpa.org/park/winter_walk_lights.