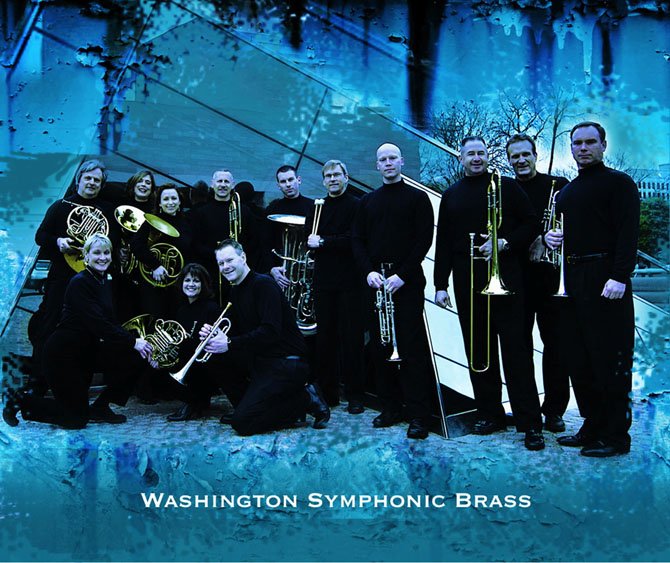 Surely, neither Johann Sebastian Bach nor John Lennon ever expected their music to be performed by a 17-member ensemble of brass and percussion only -- much less on the same program. Rather than roll in their respective graves, the two visionaries would probably applaud accomplished trumpeter and George Mason University music faculty Phil Snedecor's creative reimagining of their iconic works for the Sunday, Nov. 17 concert "Washington Symphonic Brass: From Bach to Classic Rock."
Snedecor co-founded the WSB in 1993 with the late National Symphony Principal Trombonist Milton Stevens. At first, the goal was simply performing literature for brass ensemble. Over time, said Snedecor, "We morphed into something else. It was our desire to make ourselves relevant to the musical community. If you're just a regular brass ensemble, why should people go hear you? People can go hear a military concert, and they're very well done."
To boost their originality, Snedecor began arranging music for the group that was never intended for brass ensemble. To just play down a more traditional piece of music wasn't enough -- they needed to stand out and showcase the multi-faceted talent of the ensemble's membership.
A recent Celtic concert involved a harp, an Irish singer and a bagpipe. "There was nothing published for that," said Snedecor. "I had to kind of figure that out. But I've got some of the best brass players in the world."
The idea for arranging classic rock songs came to Snedecor when the group had to prepare something for a performance at the International Trumpet Guild. "We needed a show that was going to appeal to a bunch of trumpet players," said Snedecor. He decided to forego Giovanni Gabriele and Tielman Susato in favor of Freddie Mercury and Steve Perry.
"These are all tunes that I grew up with," said Snedecor. "I loved all that stuff. Going back to that music and making it for my ensemble was a thrill and a privilege."
In addition to Queen and Journey, the group worked up a blast from 20 to 40 years past, including songs from Chicago, Wings, Boston, Kansas and the Beatles.
That initial performance led to the WSB performing the songs on tour, and eventually recording a CD: "Classic Rock for Brass", released earlier this year. Then GMU Director of Artistic Programming Tom Reynolds and Snedecor hatched the idea of combining music from the classic rock CD with actual classical arrangements for a special concert that called for powdered wigs, rock show lighting and smoke effects.
When and Where
"Washington Symphonic Brass: From Bach to Classic Rock." George Mason University Center for the Arts Concert Hall. Sunday, Nov. 17, 4 p.m. Tickets $44, $36, $28, or 1 free ticket with GMU student ID. For more information, visit cfa.gmu.edu/calendar/1450/.
"It will be this transformation," said Snedecor, describing how the audience will first hear arrangements of Bach and Respighi, before an intermission and total atmospheric change. "This is not like any brass concert they've ever seen, ever."
Nothing on Sunday's program, which features special guest musicians and former members of the acclaimed Canadian Brass ensemble Joe Burgstaller and Martin Hackleman, was originally written for brass. That's very much by design.
"We're doing something different than anyone else is doing," said Snedecor. "Nothing is turnkey. We don't buy any arrangements. We make it work for us."
Johann and John expect big things.