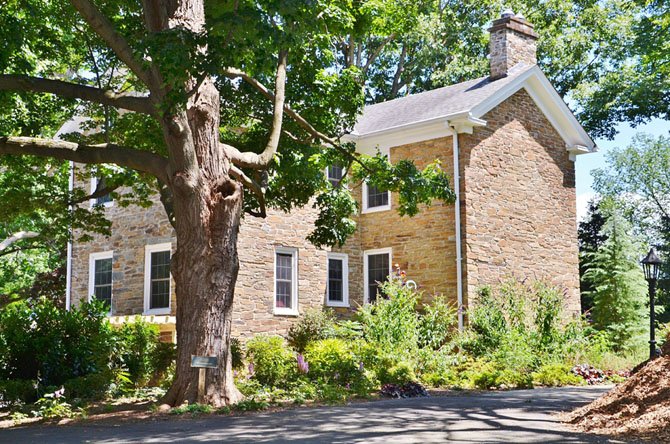 The McLean Woman's Club Holiday Homes Tour on Thursday, Dec. 5 , from 10 a.m. to 3 p.m., will feature four houses each representing a separate century. Built in 1754, l842, 1954 and 2010, respectively, the homes also display distinctly different architectures.
Bienvenue, 1754
Bienvenue, a modest 18th century colonial on Churchill Road, has ties to both the Revolution and the Civil War. The home's 0.75-acre lot was originally part of a 3,400-acre estate granted to a colonist by Britain's Lord Fairfax in 1724. The basic house was reputedly built in 1754 of sandstone from a quarry just down the street, with an extension of the same material being added later. A well fed by an underground stream and lined with the same sandstone is behind the house.
During the Civil War, the home served as a field hospital for Federal troops. A wooden carriage house behind it was used to accommodate male nurses caring for the soldiers. The names and ranks of troops billeted in the main house are said to have been carved on the attic joists. Bullets from the Civil War era have been discovered in the basement walls, and a cannonball was extracted from an outside wall. Some architectural details in the home can be traced to the 18th and 19th centuries. Gen. George McLellan, a commander for the Union Army, reputedly tied his horse to the trunk of a massive sycamore tree next to the house. The property has been known locally as "the Sycamores" in addition to "Bienvenue," a French word that means "welcome." A 1971 plaque on the side of the house and a 2002 sign near the gate add details believed to be part of the home's history.
Langley Ordinary, 1842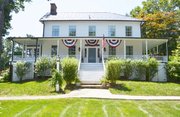 This stately, two-story house with a wraparound porch was built on Chain Bridge Road in 1842, according to a sign at the entrance; county records, however, peg the time as 1856 to 1861. The house was reportedly constructed as a drover's rest, or "a place to park livestock and wagons before crossing Chain Bridge and heading into Georgetown," according to a local historian. The house served as the headquarters of Union Gen. George McCall, then as a Civil War hospital and finally as an "ordinary," or public meeting house. As at Bienvenue, Civil War soldiers left their signatures in the attic. Across the street is a gatehouse where tolls were collected. Next to it is a small, picturesque church, where travelers reputedly worshipped.
Starting three years ago, the house was extensively renovated, with an effort to maintain or replace historically correct details. In addition, fixtures, furniture and fabrics were chosen to reflect the simpler living of the 1800s. An archaeological excavation of the 2-acre lot turned up bullets, pocket knives, nails, coins, pottery and belt buckles harking back to the mid-1800s. As you cross the threshold, you enter a past era of high, beamed ceilings, hardwood floors and Americana décor. The house has an adjacent guesthouse that provides additional living space; together the two structures have six bedrooms and six modern bathrooms.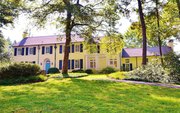 Chain Bridge Road Colonial, 1952
This large, imposing colonial, on a nearly 3-acre lot next to Langley Ordinary, sits at the top of a long hill that was used as a bunker by Union troops. The property has been a mecca for Civil War buffs searching for cannonballs and other buried artifacts. A two-story home plus attic and basement, its above-grade living area is 4,583 feet. Six single dormers grace the conservative façade, and a long driveway winds up from the street.
The house was expanded starting in 1986, when an award-winning D.C. architect recommended updating its rectangular shape by incorporating additional angles and new exterior materials. The renovation included a new kitchen, bath, master bedroom, family room and screened porch and the updating of a guest/pool house to blend with the original dwelling. The back exterior was also updated to incorporate the charm and warmth of the original home. A large, circular patio was created behind the house by bringing in 400 truckloads of soil from construction at Tyson's Corner to raise the ground level. The home has four bedrooms and three full and two half-bathrooms. There is a swimming pool and a detached garage.
The property is further distinguished by numerous large, old trees; one near the guest/pool house is estimated to be 200 years old.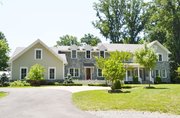 Benjamin Street House, 2010
This 8,500-square-foot, two-story home suggests contemporary north European design, with its open floor plan, straight lines, and large, uncurtained windows for maximum light. Interior walls on the main floor have been mostly omitted except for a wall closing off a large office/library. However, dining and living areas are well-defined by shape and furnishings. There is a single fireplace; the owners wished to avoid large chimneys that could shut out light. The house has uncarpeted, all-wood floors; the absence of drapes or carpeting reflects a modern trend. The full basement includes a large recreation room and a mini-soccer field. Behind the home are large patios, a swimming pool, a garden house and a cabana for dining. A three-car garage is attached to the home.
The house's use of leading-edge technology, as well as its open design, shows that it belongs to the modern age. It uses geothermal heating, whereby energy is produced by a process in which tubes reaching 300 to 400 feet below the foundation capture the earth's heat. The system can provide two-thirds of the air conditioning needed. In addition, solar panels are being installed to make the house carbon neutral.
Tour Tickets and Woman's Club MarketPlace
Tickets which consist of a booklet with a tour map and information on the houses – are available at Mesmeralda's Gifts of McLean (1339 Chain Bridge Road), Karin's Florist (527 Maple Ave., E., Vienna) and Great Dogs of Great Falls (9859 Georgetown Pike). On Dec. 5 they will be for sale at the free "MarketPlace," at Trinity United Methodist Church, McLean (1205 Dolley Madison Blvd.), and at the houses. The cost is $25 before the tour and $30 on Dec. 5, the tour day. The tour will be self-guided, but free buses based at the church will facilitate access. Car parking will not be available at the Churchill Road and the two Chain Bridge Road houses. There should be plenty of street parking at the Benjamin Street house.
Open concurrently, the MarketPlace will feature 15 vendors from local businesses, handmade crafts, collectibles, a Woman's Club bakery, a lunch and dessert concession, tour tickets and a silent auction of high-value merchandise and services. There will be ample free parking at the church.
This year's honorary host for the Holiday Homes Tour and MarketPlace will be Rear Admiral Kathleen L. Martin (Ret.), executive director of the Navy Marine Coast Guard Foundation, including the Wounded Warrior Housing project at Vinson Hall. All proceeds of the two events will be donated to local charities and nonprofits, as well as used for scholarships and education. A kickoff ceremony for the two events will take place at Langley Ordinary at 9:30 a.m. on Dec. 5, attended by Admiral Martin and local officials.
For more information, contact a Woman's Club member at 703-556-0197 or visit the club's website, www.mcleanwc.org.