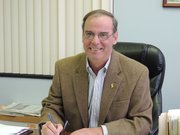 Honoring Wounded Warriors
As the executive director of the Yellow Ribbon Fund (YRF), Vienna's Mark Robbins spearheads projects that make the lives of Wounded Warriors and their families better. With his staff of 11 and 1300-plus volunteers, he leads the YRF in planning and hosting 100 events a year.
Last year, injured troops and their families were given 3076 free cab rides, and 5,554 free rental car days. They received 2,791 free hotel nights, 480 free massages for family caregivers — and the list goes on
"There is nothing better than knowing the work you do has a major impact on others," Robbins said. "We provide practical solutions for injured service members and their families. The work we do allows the service member to recover from catastrophic injuries. It also allows the families of the injured to be with their loved one. We make a difference to all of these people. There is nothing better than that."
Robbins, who has lived in Vienna for 17 years with his wife, Dianne, and three daughters, has been executive director of YRF since 2008.
THE IDEA for YRF originated in 2005 when Lt. Col. John Adams (USAFR-Ret) and colleague Denis Neill of Bethesda were introduced to Walter Reed staff members by the father of an injured Marine. While there, they had the opportunity to help a mom who was rushing to her son's side because he had been wounded in combat. She had no place to stay, so they made a reservation at a nearby hotel and paid for it. When they found out the hotel shuttle could not take her to Walter Reed at the odd times she needed to go, they rented her a car — and paid for that too. Adams and Neill saw first-hand what families go through when their loved one returns with severe injuries that require long hospital and rehabilitation stays, and what families must endure when they arrive and must negotiate a totally new environment. Thus, with help from other businessmen and women, they founded the Yellow Ribbon Fund to "fill in the gaps for injured service members and their families during treatment at Walter Reed National Military Medical Center Fort Belvoir Community Hospital and continuing support after they return to their hometown."
Located in Bethesda, the non-profit YRF was selected this year for the Greater Washington Catalogue for Philanthropy "A Guide to Giving 2013-2014." The catalogue's theme of "Give Where You Live" is a message to the Greater Washington area that the charities that are included can be trusted to spend the monies and deliver the services as they state in their literature.
"The selection process for the Catalogue for Philanthropy is really rigorous. A charity can only be selected one time every three years — it's really an honor and shows our impact on the community by putting us in the limelight. They look at all the finances, the percentage of overhead — ours is less than 17 percent. This year, I believe we are the only organization in it that is helping our Wounded Warriors," Robbins said.
The organization is gearing up for its four annual holiday parties. "These parties are so meaningful to the wounded warriors and their families," said Kristen Henderson, YRF director of communications. "One of our board members, Vito Pampalona — Uncle Vito to the servicemen and women — holds a golf tournament to raise funds for YRF every year. He spends all the proceeds on holiday gifts for holiday parties for the servicemen and women and their families — and ships everything here from Michigan. He buys backpacks, t-shirts, CDs, gift cards, iPads, Playstations and more. Santa comes to hand out the gifts — and everyone enjoys a light-hearted afternoon that truly helps when each day can be a struggle."
ONE OF ITS MOST EFFECTIVE programs supports the family caregivers who, "as unsung heroes, put their lives on hold to help their injured loved one manage the marathon of surgeries, appointments, medications and tasks of daily living," Robbins said. "We do whatever it takes. We provide housing and transportation to keep families together during long-term treatment. We sponsor therapeutic massages for the caregivers and outings for the families. These activities give the caregivers a break from hospital life and a chance to build relationships with other caregivers."
One caregiver explained how the YRF supported her. Bridgit Neisen was 20 and from a small town in Missouri when her husband was injured. When she arrived in D.C., her instructions were to rent a car. "I was too young to rent a car," she said. "Here I was, not knowing a soul, feeling totally lost and lonely, scared to death at what I was going to find when I finally saw my husband — but Bob Talbot of the Yellow Ribbon Fund was at the hospital waiting for me as my mentor. He helped me speak with the medical personnel, find a place to live, and even got me taxi vouchers. The Yellow Ribbon Fund has been there for my husband and me — and this is where I will send my donations for the rest of my life."
Amy Oppelt, wife and caregiver of Sgt. Lucas Oppelt who lost both legs in an IED blast in Afghanistan also knows the value of the YRF network. "Often I felt overwhelmed and isolated. Then a fellow Wounded Warrior spouse dragged me to a Yellow Ribbon Find caregiver dinner one night. Suddenly I was not alone in my struggles. I found respite in the caregiver events, developed friendships that I truly value and felt a great sense of community." Oppelt is now serving as YRF caregiver program director.
"We try to honor every request," Robbins said. "We are one of the 'go-to' organizations to bring families together — even if it's not a traditional family. If a serviceman or woman believes their best friend, girlfriend, boyfriend, cousin or fiancée will help them through the recovery process, we make every effort to get them here. And we continue to help them after they arrive with housing, transportation and whatever they need."
Henderson explained that, going forward, as there are fewer injured vets returning from war, the YRF's efforts will transition to the VA Ambassador program. They are currently recruiting volunteers around the U.S. to work with vets to help them no matter what their needs — finding a job, renovating a house, paying their bills. YRF stays in contact with the servicemen and women who have returned to their communities. One staff member makes phone calls to check on them (2,000 calls in two years). She was told by one vet that "This is the first call I've received since I was released."
Henderson added, "By working with civilian organizations, building networks and partnering, we can help those with lasting injuries better negotiate their world. We are also reaching out to the younger generation at local universities to become involved because they will all be aging together. One example is that American University communications students are interviewing wounded warriors and working on public service announcements for them."
The YRF needs donations and volunteers to continue the work they are doing. To donate or sign up to volunteer, visit www.yellowribbonfund.org. Read about YRF and other charities at www.catalogueforphilanthropy-dc.org. The Catalogue for Philanthropy offers gift cards, a gift registry, child-friendly philanthropies and an interactive portal to customize a giving program to meet a company's or school's needs.