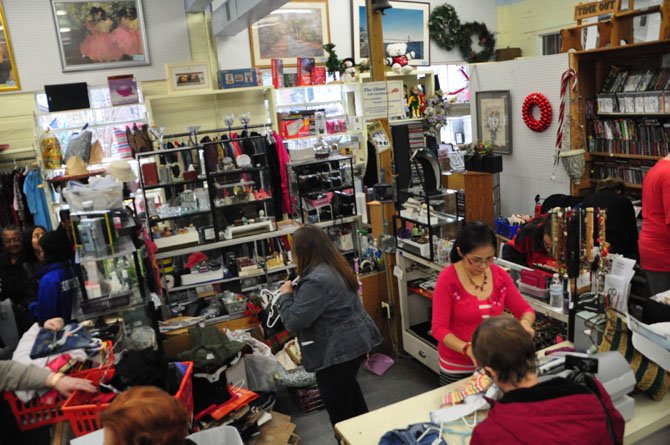 Herndon — While there's no shortage of standard brick-and-mortar and online places to shop for this holiday season, several thrift shops in Herndon offer special gift opportunities, as well as a chance to help the less fortunate while doing so.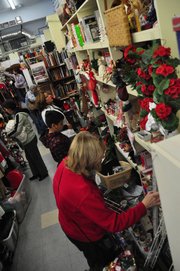 The Closet in downtown Herndon, which was recently cleaned and completely restocked for the holidays, features a selection of clothing, CD, DVDs, books, art, silverware, tableware, as well as a children's section filled with toys and books.
Store manager Aaron Sawyer likes to say "if it's not here when you're here, it's on it's way."
Regular customer Geoff Akey says he likes to shop The Closet for athletic gear.
"It's a great place for sporting equipment that's in good shape and at a good price. In fact it's so good, I hate to tell people about it, because it's my secret," he said. "But hopefully more people will also find their old equipment at home and donate it, so it can find a new home this holiday season."
Sawyer says the store checks and double checks every item that is donated before it goes onto the floor.
"We guarantee every toy, or puzzle or game is complete with all the pieces before it even makes it out onto the shelves," he said. "And whether it's a toaster or a DVD on the shelves, every single item has been tested to make sure it works. Our volunteers work very hard to make sure everything we stock works."
Since every item goes through the volunteers, they have a good sense of what can be found, and how to help their customers.
"Many of our regulars have come to rely on the person who watches the dressing rooms as their own fashion consultant, and we're definitely up for the job," said Annette Reed, a longtime volunteer. "And around the holidays, we have an entire section dedicated to decorations, which is fully stocked."
The shop's holiday wares fill one section, and are also spread out throughout the store's regular selection of clothes,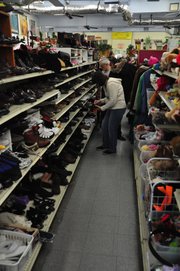 "A great, affordable gift idea that we've seen lately starts with a coffee mug, which we have a great selection of at about 50 cents per mug," Greenspan said. "After you find the right mug, fill it with chocolates, candy, or even a small plant like an African violet, and it makes a beautiful, personal gift."
Greenspan also highlighted the store's locked china cabinet, which contains an ever-changing selection of bric-a-brac, flatware and other items that are among the favorites of local collectors.
The store also has a new boxed section, featuring items that have been donated, but are still unopened in their original packaging.
Proceeds from The Closet go to support local nonprofits such as Herndon-Reston FISH among others. They also donate tens of thousands of dollars of clothing and other items to local congregations and social service agencies.
The shop will be hosting their fourth annual Christmas celebration on Sunday, Dec. 8 from 4 to 6 p.m. Santa Claus will be making an appearance, the Dranesville United Methodist Church choir will sing carols and volunteers will pack dozens of homemade cookies into gift bags for those in attendance.
The Closet located at 845 Station Street, and is open on Tuesdays, Thursdays and Saturdays from 10 a.m. to 3 p.m. More information is available at www.theclosetofgreaterherndon.org.
Another nonprofit thrift store in Herndon, The Bargain Loft, is about to undergo its annual holiday transformation. On most days, the store is a standard thrift shop with an eclectic mix of furniture, art, clothing and assorted housewares.
"When we open on Tuesday the 26th, The Bargain Loft will be transformed into our holiday shop, fully stocked with decorations, trees, ornaments and collectibles of all shapes and sizes," said Barbara Williams, one of the managers. "We collect the items throughout the year, and bring them all out for the gift giving season."
Until the store makes its transformation, all items are 50 percent off, and will be until closing on Saturday, Nov. 23.
"One of our most popular items are the vintage ornaments we get in, they're hard to find anywhere else, and we get a great selection of them," Williams said.
Proceeds from The Bargain Loft go to benefit Herndon-Reston FISH, which stands for Friendly, Instant, Sympathetic Help. The organization provides emergency assistance in the form of bill or rent payment, transportation and other needs.
The Bargain Loft is open Tuesday through Friday from 10 a.m. to 3 p.m. and on Saturdays from 10 a.m. to 4 p.m. It is located at 336 Victory Drive in Herndon.
More information is available at www.herndonrestonfish.org.