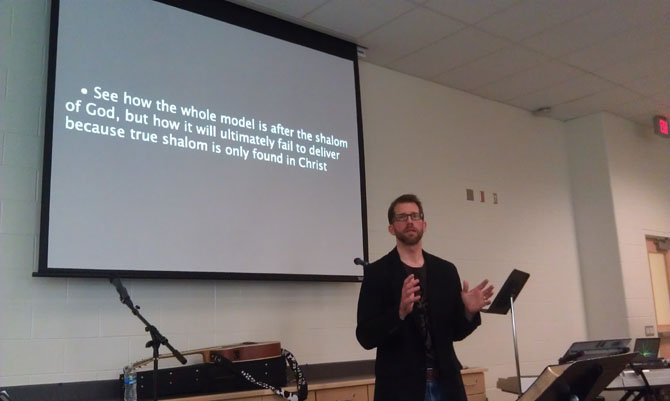 It was just after 10:30 a.m. on Sunday, Nov. 3, and West City Fellowship's third official service was about to begin at Wakefield High School. Two attendees stood at the entrance of the high school's parking lot greeting the new, the curious and the returning alike as signs pointed the direction to service. Meanwhile, standing at the front of a classroom inside, Pastor Scott Maurer delivered his opening remarks to about 20 people scattered throughout a few rows of fold-up chairs.
Started through Fair Oaks Church in Fairfax, West City Fellowship is a new, non-denominational Christian church with an evangelical mission to reach out to those searching for or curious to know more about Jesus Christ. Still in its beginning stage, the church is part of a plan of planted churches, termed as "decavision" by Fair Oak's Senior Pastor David R. Stokes, who was the source of inspiration for the ongoing project.
"What I'd like to see us do is plant 10 churches in 10 metropolitan areas in 10 years," said Stokes, who has been with Fair Oaks for 15 years. "I shared [this] vision four years ago. Whether we will meet that timeline is questionable, but, you know, you have to have goals."
Wanting to create something where people can rise up and feel God has called them to it, he envisioned congregations where people could spend the rest of their lives. "The specific vision of where [the planted churches will be] is left up to those who step up and say, 'I'd like to be a part of this,'" said Stokes.
The pastor of 35 years said the mission is to reach out to "unchurched" populations of metropolitan areas. "It's rooted in our mandate as Christians and particularly as local-church Christians to spread the Gospel and not just in an informational way," he said. "It's a very paleo-Christian thing to do."
With two other churches already planted in Florida and Canada, and now a third in Arlington, Stoke's vision is well under way. To make sure he sees the mission through in northern Virginia is Stoke's longtime colleague and friend, Pastor Scott Maurer.
Stokes met Maurer when Maurer decided to join the ministry at Fair Oaks Church 10 years ago. Unlike many in the ministry, however, Maurer came with a different background of experiences in his spiritual journey. Having grown up in a Jewish household, Maurer says he did not find Christ until he was approximately 27, and even then, did not make the leap into ministry for another 10 years.
Consequently, the T.C. Williams graduate approaches evangelism with a different perspective, background and sense of understanding than many of his colleagues.
As the pastor for the newly planted church, Maurer shares a love of faith, community and evangelism with many of the local residents in attendance. Unlike many pastors, he never thought he'd even call himself a Christian, much less a man of ministry — a perspective that allows him to have particular sympathy and compassion for those seeking answers in their own spiritual quests.
"He grew up not knowing the Lord," said Heidi O'Leska, a long-time Fair Oaks Church attendee and now-regular at West City Fellowship, of Maurer. "He can relate to anyone coming through that door. He's got a heart. He's a passionate pastor."
Now going into its second month as a planted church, Maurer is working to get West City Fellowship standing on its own. With planning for a youth group in the works, other discussion groups, including one called Exploring Christianity, have already started. Exploring Christianity takes place every Monday evening as a dinner and open discussion, hosted by Maurer and his wife at their home, for anyone who wants to learn more about Christianity. Other groups include a women's healing group and a men's group — both of which take place on Tuesday nights.
"We want to be a place where broken people can be restored in faith and experience God's love and have a genuine relationship with [Him], so we want to be able to teach one another how to be spiritual leaders, people who can help each other heal and help each other grow in Christ," said Maurer of West City Fellowship. "We hope that's an open invitation to anybody, whether they consider themselves a definite follower of Jesus or they're just not sure and they want to figure it out."
For more information on West City Fellowship, visit www.westcityfellowship.com.