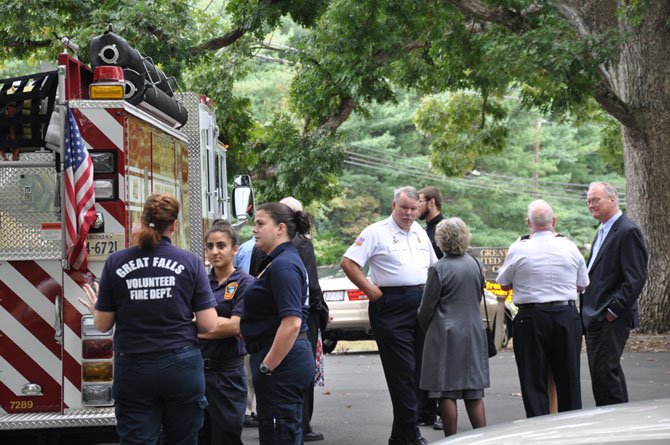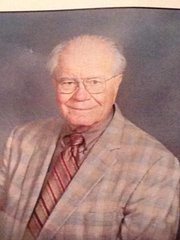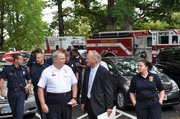 Dr. Christopher Earl "Doc" Kennemer, Great Falls resident, volunteer firefighter and local representative of Santa Claus, made sure that Santa got off to a good start for 30-plus holiday seasons during the annual Great Falls Village Centre Christmas Tree Lighting event. In return, on Saturday, Sept. 28, personnel from the Great Falls Volunteer Fire Department and the Fairfax County Fire and Rescue Department joined with Kennemer family and friends to give Kennemer a fitting send-off at a standing-room-only memorial service held at Great Falls United Methodist Church where he had taught Sunday school and been an active member for more than 35 years. Always on call, all fire department personnel were seated with easy access to exits or stationed outside the service so they could respond if needed elsewhere.
Kennemer, age 83, died Sept. 24 at Reston Hospital Center. In declining health over the last few months, on occasion, he needed the emergency medical services provided by the emergency medical technicians and paramedics from the Great Falls Fire Station. As a member of the Great Falls Volunteer Fire Department for over 35 years, one of Kennemer's initial duties was to instruct fire department personnel in cardiopulmonary resuscitation (CPR), an emergency procedure just becoming more widely known to the general public at the time. The technique of CPR was developed at Johns Hopkins University and in his professional capacity with the U.S. Public Health Service, Kennemer was responsible for inviting medical professionals from around the country to attend early special instructor's courses in CPR at The Johns Hopkins Hospital. Kennemer was also co-editor of a book published by the Public Health Service on emergency preparedness for natural and manmade disasters.
Kennemer held a Master's Degree in Public Health (with honors) from Michigan, a Doctor of Dental Surgery degree from the University of Tennessee, and obtained his undergraduate degree from Memphis State University. His wife, Onis M. "Tippy" Kennemer predeceased him. He is survived by his son, Christopher Earl Kennemer, Jr., of Great Falls; his daughter, Connie Fidler; five grandchildren: Michael Siler, Kimberly Barrett, Hunter Siler, Sarah Fidler and Eli Fidler; and one great-grandchild, Landon Barrett. He was also a member of the Methodist Men's Club and the Great Falls Lions Club. Kennemer did not accept payment for being Santa's local representative and when Santa made an appearance, Kennemer would instead suggest that the event organizer make a donation to the Great Falls Lions Club or the Great Falls Volunteer Fire Department.
He leant a helping hand to Mrs. Claus, as well. Having worked for a commercial cookie-baker as a teen, Kennemer was also the self-titled "cooker of the world's best chocolate-chip cookie" and maker of "the world's best and softest caramel." In a quote from The Washington Post, as reprinted by the Reading Eagle/Reading Times, ["Foodnotes." 27 Nov. 1996: C2. Print.], Kennemer said, "I am a retired dentist. I have to make candy that won't knock out fillings."