McLean — Members of the Specially Adapted Resource Club (SPARC), which serves adults with life-long disabilities, have been meeting at the Old Firehouse Teen Center in McLean for almost two years.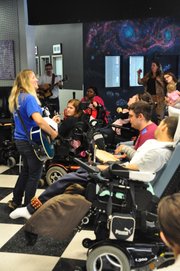 "We were meeting one day, and we got to talking about a few bands I've played with in the area, and they asked if they could join a band," said Sunny Trippel, music director at SPARC. "I thought that was a great idea, and started reaching out to musicians I know."
Trippel's efforts resulted in the first ever SPARC music workshop, where musicians from around the area came to show club members what they do.
Singer-songwriters David Kitchen and Todd Wright joined percussionist Katy Gaughan, drummer Brian Takagi, guitarist Matthew Telford and slide guitarist Mike Murphy.
"I reached out to about 25 different musicians, and none of them said no, though many had other commitments," Trippel said. "We have a musical program a few times per month at the various clubs, but this was the first time we did a workshop, where each musician set up a station and explained what they do."
Wright, who has been a member of The Excentrics, The Getaway Car and other bands, said he was excited to return to the Old Firehouse Teen Center.
"I remember playing a gig here in the early 90s, which had to be one of the earliest performances at the teen center," he said. "So it's fun to come back and work with SPARC."
Kitchen, who is based in Alexandria, has been named Songwriter of the Year and won several other awards from the Washington Area Music Association. He brought in a guitar and bass guitar to the workshop.
He also has a special connection to the club, his son Hank is a member. Kitchen demonstrated how he is able to jam with his son, with Hank using a Korg Kaossilator.
"It's a palm-sized synthesizer that he can touch and create sounds with," David Kitchen said. "I just set it to the key of my guitar, and I can play along with the sounds he's making."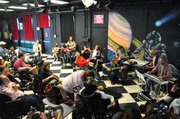 In addition to going through the various stations and learning about different instruments, the club and musicians came together for a final jam session at the end of the workshop.
Club members and their caretakers were given a variety of percussion instruments, and the musicians led them in the three songs they've been learning for the club band, Bob Marley's "Three Little Birds," Bobby McFerrin's "Don't Worry, Be Happy" and John Denver's "Take Me Home, Country Roads."
They also led the group in a performance of The Beatles' "I've Just Seen A Face" and Johnny Cash's "Folsom Prison Blues."
"We usually do more of music therapy, which isn't as interactive, so this is a big step forward for the club," said Donna Goldbranson, president and executive director of SPARC. "The smiles and happiness we saw today are a great sign, that's what we're after every day."
Trippel said the club members are gearing up for a live performance before the end of the year.
More information on SPARC can be found at www.sparcsolutions.org.