Where and When
"The Marcy and Zina Show" at the Jewish Community Center of Northern Virginia, 8900 Little River Turnpike, Fairfax. Performances: Saturday evening, Oct. 19, 8 p.m. and Sunday matinee, Oct. 20 at 2 p.m. Tickets available for non-members and members and with student and senior discounts. Tickets: $19-$29. Call box office 703-537-3000 or visit http://www.jccnv.org">www.jccnv.org.
"Neurotically optimistic songs about love and life" are coming to Northern Virginia audiences as the award-winning Marcy Heisler and Zina Goldrich pull into the Northern Virginia Jewish Community Center (JCCNV). You may not know their names right off hand, but Kristin Chenowith, Audry McDonald and Michael Feinstein regularly sing their compositions.
Goldrich and Heisler are self-described "two city girls who write about love, and the sometimes lack of love," said Heisler, the lyricist. They enjoy the close-in, close-up cabaret style of performance since it allows for "intimate story-telling, almost like mini-musicals, sharing intense feelings about life with an audience."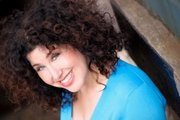 "We write about our life's funny experiences. We write to celebrate life," said Goldrich, the composer. Performing together for 20 years, the partnership builds upon "a similar spirit, a similar voice, one that loves to look at the crooked specifics of life," added Goldrich.
Their songs range from comical tales of unexpected infatuation, to deep pangs of love, to the bittersweet ballads of thwarted love. Their musical style is classic, hummable, vivacious Broadway.
Some song titles reveal their range. There is "Taylor the Latte Boy" a comedy song that tells of a flirtation with a barista at Starbucks, "Alto's Lament" about performing as a harmony singing alto who dreams of singing soprano melody, to the witty, wry, breezy "Baltimore."
There are also the heart-filling "Love Like Breathing" and the new "Ever After" about two hearts joined together. The delightful "15 Pounds from Love" always brings sly grins as the last unexpected stanza is performed. The duo has links to the D.C. area, receiving 2011 Helen Hayes Award nominations for "Snow White, Rose Red and Fred" which premiered at the Kennedy Center and having appeared at Arlington's Signature Theatre.
Heisler and Goldrich received 2009 Drama Desk nominations for Outstanding Music and Lyrics for "Dear Edwina." They penned the score for the "Great American Mousical" a 2012 musical love-letter to Broadway. They are also recipients of the prestigious "Fred Ebb Award," which recognizes excellence in musical theatre songwriting.
For everyone, non-members and members alike of the JCCNV, the effervescent "Marcy and Zina Show" will bring "their special brand of musical theater entertainment ... creativity, energy and fun," said Dan Kirsch, cultural arts director, JCCNV.
The performances promise to be a most lively enchanting musical lens on life with a special knowing twist and delightful patter. Keep in mind, they even rhymed "quesadilla" with "IKEA."