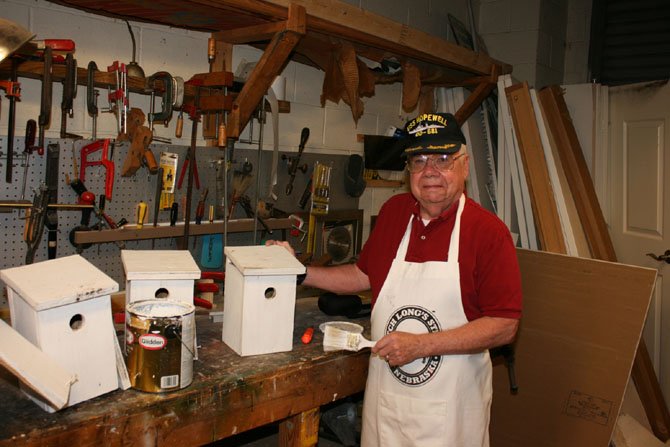 Jim Harkin, 81, and his wife, Phyllis, 80, have little free time these days. Jim spends his days protecting and photographing wildlife on the 60-acre campus at The Fairfax, a Sunrise Senior Living Community, in Fort Belvoir. He helped build, refurbish and maintain more than 20 birdhouses on the grounds, including homes for tree swallows and purple martins.
Photo Gallery
The Golden Years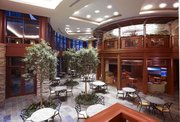 Click Photo for Flash
Phyllis Harkin manages a small gift shop and runs marathon bridge games. The couple moved to The Fairfax more than two-and-a-half years ago from their home in Fairfax because they wanted the freedom to pursue their interests and live among people with similar lifestyles without the responsibility of maintaining a household.
"We were getting older and keeping up a house and yard in Fairfax was getting harder," said Jim Harkin, a retired Navy captain. "We also wanted to make our own decisions about where and when we moved and not have that left up to our busy children."
"I wanted to move into a community where there were people who had lifestyles that were similar to mine."

— Kathy Aust
Phyllis Harkin, a former real estate appraiser, said, "We did it in time, but after living at The Fairfax, we wish we'd done it earlier. You have no idea how much fun it is over here."
Kathy Aust, 67, has lived at Heritage Hunt Golf and Country Club, an independent living retirement community, in Gainesville, Va., since 2001. She moved there from Burke, she said, for social reasons. "I wanted to move into a community where there were people who had lifestyles that were similar to mine," said Aust, a retired federal employee who has no children. "I like living in a community with people in similar situations. It is very active here. There are indoor and outdoor pools, tennis and golf. There is so much to be done here." Aust volunteers on the Heritage Hunt community task force and with the community's women's group.
THESE TRANSITIONS were smooth and logical for them, based on their own choice.
But the decision to move out of one's home and into a retirement community is often complicated and can be fraught with anxiety. Experts in geriatrics say that reasons to relocate to a retirement community usually boil down to three factors: social connections, physical condition and personal safety.
"It's like a trifecta or a three-legged stool. It is hard to be stable if one leg isn't working" said Andrew Carle, an executive-in-residence at George Mason University's program in senior housing administration in Fairfax. "A person might be physically healthy, but if they are isolated in their home and not driving or have lost touch with friends, they could become depressed."
"We wish we'd [moved] earlier. You have no idea how much fun it is over here."

— Phyllis Harkin
Carle, who has more than 25 years of executive-level senior housing and health care experience, adds that if a person has had a stroke or another condition that affects mobility, living alone is challenging. "If you need assistance with dressing and bathing that would make it difficult for you to stay in your home alone," he said.
Safety issues, such as a risk of falling or medication management, are other reasons that one might not be safe living alone, said Carle. "If you fall and hit your head and nobody comes, you could die," he said. "There is also the medication issue. The average 75-year-old is on between seven to 12 medications each day. The number one cause of hospitalization in people over 75 is medication error. The number one cause of death due to injury in seniors is falls."
Not everyone who leaves their home does so willingly. Gail, who has no children or family in the area and asked that her last name be withheld, moved to Potomac Valley Nursing and Wellness Center in Rockville, Md., after her close friends and a social worker determined that she was not healthy enough to live alone. "I want to go back to my house," she said. "That is where I want to be."
Linda Gulyn, Ph.D., a professor of psychology at Marymount University in Arlington, who teaches aging psychology, says that despite the amenities and services that make retirement communities a good fit for many people, a feeling of losing the ability to make decisions about one's life makes many seniors resistant to leaving their homes.
"One of the biggest psychological issues faced by the older person is the feeling they are giving up control of their lives in so many ways and that can be depressing," she said. "Engage the older person in the process as much as possible and respect their choices, whether it is how to decorate their place or what to bring."
Where to Find Help for Seniors
Arlington County Department of Human Services
Agency on Aging
2100 Washington Blvd., 4th Floor
Arlington, VA 22204
Tel: 703-228-1700
TTY: 703-228-1788
http://www.arling...">www.arlingtonva.u...
Fairfax County Services for Older Adults
Tel: 703-324-7948 TTY: 711
http://www.fairfa...">www.fairfaxcounty...
City of Alexandria
Center for Adult Services
Community and Human Services
Tel: 703-746-5999
Andrew Carle said, "The very best strategy for a resistant parent is respite stay, which is essentially a short-term stay. The family goes on vacation and lets the senior stay at a retirement community for a week or two. It gives the senior a chance to meet the people, eat the food and participate in the activities. Usually after about a week or two the senior realizes that living alone in their home and watching television all day isn't all it is cracked up to be."
WHEN ONE DECIDES that living alone is no longer wise, there are plenty of options. Local retirement communities run the gamut from independent living where a person lives among fellow seniors, but does not need special care, to levels of assisted living. Assisted living facilities provide different levels of care for those who need help with small tasks such as medication administration, to those who need help with daily tasks such as getting dressed or taking a bath. Skilled nursing facilities, where residents have greater medical needs, are another option.
Some facilities such as The Fairfax and the Hermitage in Alexandria, are actually continuing care retirement communities that enable residents to transition from independent living to nursing care in the same facility as conditions change.
"Independent living basically meets a person's social needs," said Carle. "Assisted living is for people who have physical needs or limitations. I don't think of nursing homes as senior housing. It is long-term health care or for someone who is recovering from an injury or who needs physical therapy."
Lynette Mitchell, director of marketing and community outreach at The Hermitage, explains that, "We have everything from people who are totally independent to people who need help bathing and dressing. We can deliver all of those services."
Debra Norberg, associate director of marketing at The Hermitage, said that in addition to amenities on campus, which include a game and fitness rooms, there is support throughout the facility.
"There is a community aspect," Norberg said. "If someone doesn't show up for a meal, we notice. We work as a team to make sure we all know the residents, and if they don't show up for something, someone is going to check on them."
Activities as simple as a meal in the dining room can become an opportunity for socializing. "Some of these people were coming from situations where they were isolated," she said. "This is a new chapter in their lives. We try to pair people up and give them a buddy and we have activities every single day of the week."
Many assisted living facilities also offer mental health counseling services. "We have a social work component that deals with the psycho-social issues," said Norberg. "We can provide grief counseling and we have psychiatrists on staff."
"Fox Hill's... amenities, services and fascinating residents all combine to offer a distinctive retirement lifestyle that is both very attractive and very accessible," said Julie Sabag, director of marketing at Fox Hill, in Bethesda, Md.
Westminster at Lake Ridge in Occoquan another continuing care retirement community, offers residents an array of activities that run the gamut from performing arts to gardening. "We have the Westminstrels, a choir and the Westphalians, a drama group," said Carolyn Crosby, assistant administrator at Westminster. "We also have a resident garden, which the residents tend themselves. They grow vegetables and leave overflow produce for other residents to take."
SOME RETIREMENT COMMUNITIES, such as Great Falls Assisted Living in Reston, Brightview Senior Living in Great Falls and Sunrise At Fox Hill in Bethesda, Md., also offer memory care services for those with illnesses such as Alzheimer's disease and dementia.
Peg Bixler, an assisted living resident at The Hermitage, said her doctor advised her that she should not live alone anymore. "And I didn't want to be a burden to my children," Bixler, a retired oncology nurse, added. "I do miss my career and I miss traveling, but I've traveled all over the world."
Bixler says living in an assisted living community allows her to maintain an active lifestyle and avoid isolation and loneliness while still getting the help that she needs. She volunteers in the gift shop of the John F. Kennedy Center for the Performing Arts in Washington, and for the USO at Washington Regan National Airport, greeting veterans and passing out flags.
"I'm busy 24 hours a day. I get out and walk every single day," said Bixler. "I do a lot of reading. You socialize at meals here. I go out when they go on the shopping trips, which gets you out and about."
Most importantly, said Bixler, she's still able to live in close proximity to her family, which includes a daughter who lives in Alexandria and a son who lives in Maryland. She also has a son in Pennsylvania and a daughter in Maine.
While Bixler has remained near her family, relocating from a different state to be close to family as one ages is also a common choice. That was the case for 93-year-old Dorothy Lavoie, another resident of The Hermitage. "I don't have any children, but I am close to my niece" said Lavoie, a former nurse who served in World War II and the Korean War. "I was living in California, and my niece who lived here wanted me to live near her."
Another Hermitage resident, John Mutchler, a retired chemist who has a daughter in Arlington, and a twin sister in Alexandria, moved from New Jersey to Alexandria to be closer to his family. "It is no problem for me to visit with my family often, which is nice for me," he said. "I keep busy here. I am the chairman of the executive committee. I am also a member of the poetry group where we read poetry every week. I am a member of the current events group."
"It is a great way to retire and a great way to live," said Jarad Smith, director of marking and sales at The Fairfax. "Clients want to be active, social and in a safe environment. As I walk around, I see residents play poker or bridge. We're on 60 acres. There are a lot of nature trails."