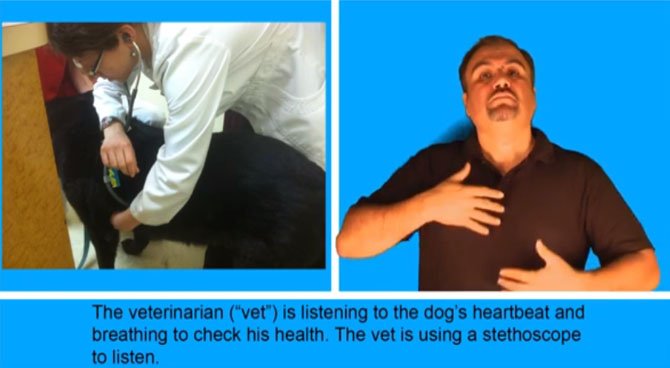 Mount Vernon — A Mount Vernon woman has found a way to teach the English language simultaneously to deaf and hearing students.
Christine Wixtrom's new program, known as English By Eye, incorporates a visual and written component, along with an oral presentation, and an American Sign Language interpreter. These four elements are joined together in a series of short videos that last approximately two to six minutes each.
"The goal is to make it a complete visual presentation," said Wixtrom, who recently received her master's of science in teaching English to speakers of other languages from Shenandoah University.
Wixtrom's videos, which are posted on Youtube.com, take on an array of topics from dogs and fishing to containers and computer assembly. Viewers are presented with a still photo in the upper left hand corner of the screen. Often, this image features text that individuals encounter in their daily lives, such as "pay at the pump." To the right of the photo, an American Sign Language interpreter explains the words that are pictured. At the bottom of the screen, a short one-sentence explanation of the scene is provided. A voiceover, meanwhile, gives an oral interpretation of the text found in both boxes.
"We call it linguistic mediation," said Wixtrom.
The goal, she said, is to give the student clues so they can decipher the text that is presented to them. The image, text and their interpretations will not match up identically, but Wixtom said they do give the viewer sufficient information to learn the meaning of the written text.
"They have to be trying. They have to be putting in the effort," she said, noting that this method of learning is an active process.
Wixtrom said her videos are targeted at adults, who are not native to the English language. They teach viewers about the multiple meanings of the written words they encounter in the world around them. The videos are aimed at both hearing and deaf individuals, she said.
This is not Wixtrom's first attempt to make language more accessible. In 1997, she formed a non-profit organization, ASL Access, which aims to make American Sign Language more easily accessible to the public. As part of their efforts, the organization placed nearly 5,600 videos about American Sign Language in libraries across the country. In some locations, Wixtrom said library staff reported that the ASL videos were used more than any of the library's other audio visual materials.
With the dawn of DVD, Blu-Ray and the Internet, however VHS became a technology that was no longer used. The videotapes fell out of circulation.
Now, Wixtrom is taking on a new project that will teach English to nonnative readers.
The project is in its earliest stages and Wixtrom said she is in need of volunteers to assist with editing and uploading the videos. So far, she has made roughly 14 videos, but said she has 10,000 pictures and numerous learning modules that she would like to add.
"At this point we're just working on it little by little. We really need technical help," she said.