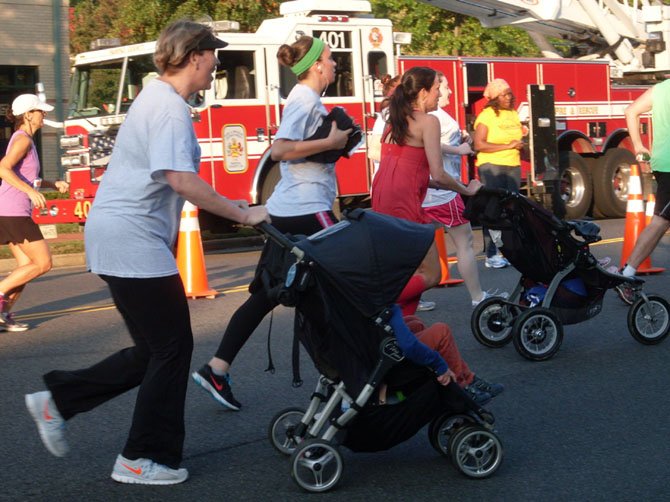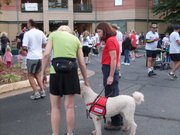 Arriving before sunrise on Saturday, Oct. 5, runners and supporters of McLean 5K Run With The Warriors met at McLean Square, 6629 Old Dominion Drive. Participants included students from Chesterbrook Elementary School and their parents, led by the school's mascot, Chester the Chipmunk; wrestlers from McLean High School; first responders from McLean Fire Department, and employees and representatives from Vinson Hall and Century 21 New Millennium. Century 21 and the Navy Marine Coast Residence Foundation were hosts of the event. Overall there were over 900 participants in the race.
Chesterbrook students, parents and teachers have participated in the 5K race since its origins in 2011. Bob Fuqua, principal of Chesterbrook Elementary School, remarked that the annual event illustrates to the students the benefits of community service. Chester stayed in for the entire race, and his time was a little over 33 minutes. Chesterbrook chorus also performed at the awards ceremony.
The 5K run is one of three local events benefiting Wounded Warrior Transitional Housing at Vinson Hall, a program to help young wounded veterans who return home from conflict and require specialized care in a setting that is well-suited to their needs. Renovated apartments at Vinson Hall Retirement Community in McLean will serve as transitional housing for active duty soldiers discharged from inpatient care at Walter Reed National Military Medical Center in Bethesda, Md.
Brandyi Phillips, communications coordinator for the Navy Marine Coast Guard Residence Foundation, said that the program for the Wounded Warrior Transitional Housing at Vinson Hall has placed their first veteran in an apartment and is working to place a second soon, with this year's goal to raise $100,000. Wounded Warrior Transitional Housing at Vinson Hall is one of three programs supported by the foundation. Visit www.vinsonhall.org/foundation/about-us/programs to learn more.
Rob Jones, also a race participant, was the keynote speaker at the awards ceremony. He served as a combat engineer in the Marine Corps and was wounded in Afghanistan. He spoke about his life challenges from losing both legs below the knees and the experience of taking nine months to learn how to ride a bike. He soon plans to ride cross-country to raise further awareness for wounded veterans.
The event was supported by a number of service organizations focused on helping veterans, such as "Veterans Moving Forward." Executive Director Karen Jefferies, a former Navy officer, said the national program is designed to help veterans overcome stress and physical disabilities by providing them with skilled companion and service dogs. These companion and service dogs visit medical centers, clinics and facilities, such as Arleigh Burke, to provide therapeutic assistance to veterans. One notable example was "Lucy" and her volunteer owner Jen Logan who attended the event to show support. Visit www.vetsfwd.org to learn more.