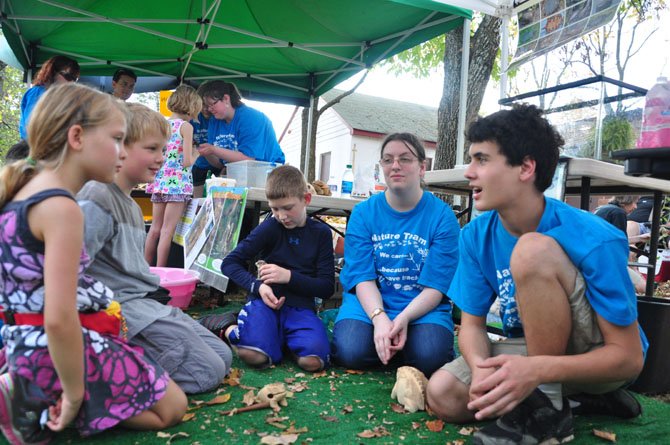 Herndon — The Friends of Runnymede Park and the Town of Herndon Parks and Recreation Department hosted the annual NatureFest Sunday, Oct. 6. The festival gave nature enthusiasts of all ages a chance to explore the diverse habitats within the park.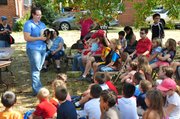 "From Herndon Parkway, you can see the woods and part of the meadow, but I had no idea about the trails, stream and other fields," said Shane Burke of Herndon. "I think this was a perfect event to showcase what this property has to offer."
The 58-acre park features more than 100 species of animals, including birds, deer, fish, foxes and more. Sunday's events allowed visitors to learn about many of the park's inhabitants, as well as the places they call home.
"My favorite part was learning about what kinds of creatures live in the stream," said Benny O'Hara, 7. "Some of the animals, like crayfish and the worms that live in the dirt next to the stream, are ones we learned about in school, and it's cool to see them so close by."
Visitors got an even more in-depth look at how the Virginia Department of Game and Inland Fisheries count the fish population, by "shocking."
The process involves someone with an electric backpack and pole who uses the pole to send a slight current through the water, stunning the fish and allowing them to be collected and counted.
Mike Ozzell, a fisheries biologist with the Department of Game and Inland Fisheries, showed visitors how the process is done, as well as some of their findings in Runnymede.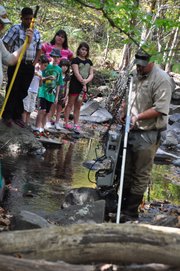 "There are fish that prefer to stay on the bottom in areas where there's more of a gradient and more ripples of current, and then there are others that prefer the fast-moving water," he said. "In a stream like this, there can be two almost completely different habitats just a few feet away downstream."
While it was mostly children who marveled at Ozzell's explanation, it enlightened several of the adults present as well.
"I had no idea that was how they get information on fish populations and where they live," said Gerry McKnight of Herndon. "I thought the biologist did a great job of explaining the concept and procedures to the kids as well, and for once we both learned something."
Other stations allowed visitors to see and interact with animals such as lizards and skunks, build birdhouses, grow a bird feeder garden and explore the roles of bees and butterflies.
"It seemed like every 15 minutes my son would come running up with a new fact he learned about bees, or meadows, or how to build a birdhouse, he was excited to take it all in," said Ellen Forrest of Herndon. "I think this event did a great job of covering the full spectrum of what outdoor, open space can offer, and I know it made an impression on my son, I hope it did the same with everyone that came out."