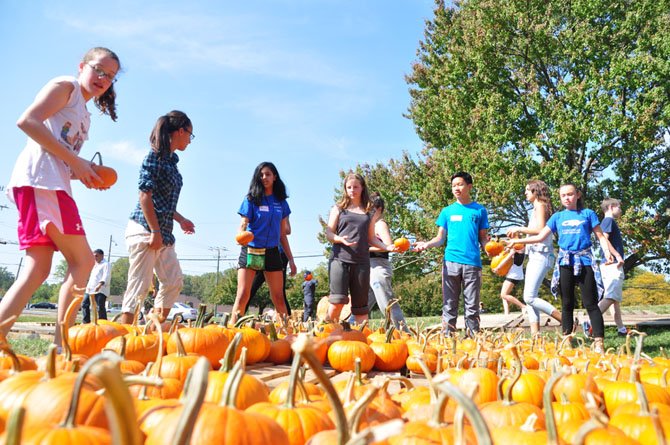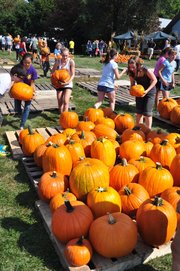 McLean — The green lawn in front of St. Thomas Episcopal Church in McLean had some orange added to it Saturday, Oct. 5, courtesy of a truckload of pumpkins and hundreds of student volunteers.
"This is our sixth pumpkin patch here at St. Thomas, and the second year we've taken a full truckload, which makes it easier for volunteers," said Rev. Stephen Edmondson, rector at St. Thomas. "Usually we have to count 1,532 pumpkins off the truck, but now we just have to empty it."
The pumpkins come from a Navajo reservation, and sales are split between the church and the Navajos. The church donates their part of the proceeds to Share of McLean, the Samaritan Ministry of Washington, D.C., the Falls Church-McLean Children's Center, and the FACETS Hypothermia Shelter program.
"What really makes our pumpkin patch come together is the students that help us unload on the first day," Edmondson said. "We've had about 160 eighth graders from Cooper and Longfellow Middle Schools today alone, and they're really helping get the job done."
The pumpkin patch will be open through Halloween from 11 a.m. to 7 p.m. Sunday through Friday an 10 a.m. to 6 p.m. on Saturdays.
St. Thomas Episcopal Church is located at 8991 Brook Road.