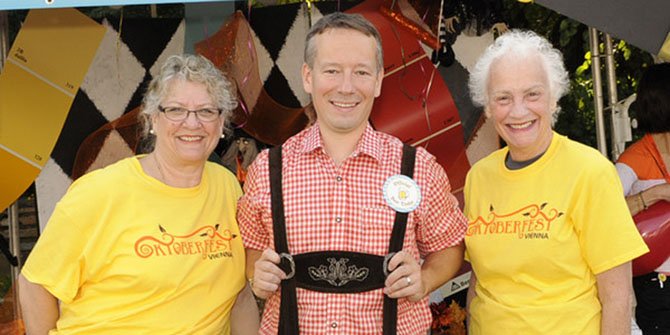 As hot as it was on Oct. 5—in the upper-80s—it was still picture-perfect weather for the Vienna Oktoberfest, a full day of family fun, food, live entertainment and beer and wine.
Photo Gallery
Vienna Oktoberfest
Click Photo for Flash
Burgermeister Greg Bernhard and Vienna Mayor M. Jane Seeman opened the festival with welcoming remarks at 11 a.m., with Bernhard pledging to "protect" the festival. At noon, Bernhard declared the beer garden open with "Ein Prosit Der Gemütlichkeit."
Throughout the day, Oktoberfest visitors shopped the marketplace along the Historic Church Street corridor, bought bratwurst and beer in the food court, listened to pop and German music in the beer garden, and took a spot on the lawn of the Town Green as entertainers performed on the children's stage there. The Lone Ranger and his horse Silver promenaded around the Green, posing with children.
Kiddie-rock favorite Rocknoceros kicked off the children's festivities and the moonbounce was filled with jumping youngsters throughout the day. The Lone Ranger and Silver did a one-hour show at 1 p.m., although some of the younger kids and parents were not cheering the gunshots.
The Kiln Company was so busy, the craft table ran out of figurines to decorate by early afternoon. The Lego village captured the attention of kids and their parents. Children waited in line to have their faces painted and older kids climbed the rock wall. Here's the enticing part—the children's activities were free.
The Vienna Oktoberfest was sponsored by the Vienna Business Association [VBA] and the Town of Vienna, and supported by local businesses. Proceeds from Oktoberfest benefit Vienna's first-ever family-focused First Night celebration, Dec. 31, from 9 p.m. to midnight. To learn more about the Vienna Business Association, a nonprofit dedicated to Vienna's small businesses and their partnership with the community, go to www.viennabusiness.org.