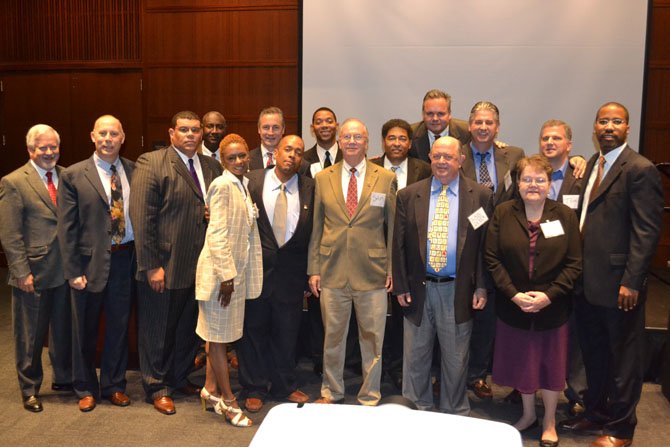 Arlington — Volunteers of America (VOA) Chesapeake will hold its 4th annual Harvest for Hope Benefit Breakfast on Thursday, Oct. 10 at The Sheraton Pentagon City from 8-9:30 a.m. This annual event brings the community together with sponsors such as Sheraton, SIGAL, BB&T and Venable, LLP to help raise awareness and funds for the local, faith-based organization that helps nearly 10,000 people in the Mid-Atlantic area each year.
The free breakfast, sponsored by The Sheraton Pentagon City, will feature client testimonials and success stories as well as an awards presentation to a member of the Arlington community who has gone above and beyond to help those in need. Attendees will also get a first look at upcoming projects and ways to get involved in helping to end homelessness throughout Northern Virginia. The event will also debut a new video about the impact VOA makes in the area.
"One of our clients that will speak is a father whose daughter is impacted by an intellectual disability," said Rob Malone, chief business development officer of Volunteers of America Chesapeake. "When you have a dependent that has disabilities you want to make sure they're well taken care of and have a great support system. You can imagine how emotional that can be."
Specifically, the event will benefit Northern Virginia programs including The Residential Program Center, Bailey's Crossroads Community Shelter, the Mary Marshall Assisted Living Facility, Safe Haven and Vertical Village; all sponsored and run by VOA Chesapeake. The Mary Marshall Assisted Living Facility provides assisted living housing for more than 50 low-income seniors with mental illness, intellectual or developmental disabilities. Safe Haven is a community program that offers a variety of services including healthy meals, English classes, health screenings and a computer lab with job counselors. Vertical Village is another program for seniors to keep them engaged and active with opportunities to learn and explore new things.
Along with these programs, the event will also benefit area homelessness initiatives which are part of VOA Chesapeake's impact as the group helps 33 per cent of people challenged with homelessness in Northern Virginia. Malone notes that sequestration is having an impact on many aspects of the country, but particularly on homelessness. Malone says there is a heightened need for people to support where the government may not be able to. Homelessness and other services the nonprofit provides the community will be the focus of Harvest for Hope.
The event is co-hosted by state Sen. Barbara Favola and The NFL Retired Players Association. A number of retired NFL players will be at the event, including former Washington Redskins running back Ken Jenkins. Other players attending include Cal Snowden of the St. Louis Cardinals, Buffalo Bills and San Diego Chargers and John Stufflebeem of the Detroit Lions.
"Senator Favola is a true Arlingtonian who has served Northern Virginia for years," said Russell Snyder, president and CEO of Volunteers of America Chesapeake. "She is a staunch advocate for human services within Arlington County and her championing those efforts clearly aligns with us very well."
Two hundred people are expected at this year's Harvest for Hope and VOA Chesapeake hopes to raise nearly $300,000 through partners and community members. The organization is also looking to recruit more volunteers that want to make a positive impact in the area.
"The goal for this event is not just about money," said Snyder. "The focus is on getting the word out to people in the community that there is a homelessness issue in Northern Virginia and affordable housing is the most important solution."
To ensure the highest percent of funds raised will go toward these programs, the group eliminated its annual gala and replaced it with the Harvest for Hope breakfast; a model many VOA affiliates across the country have found successful. This has allowed VOA Chesapeake to reduce costs for entertainment and food and spend more time developing relationships with partners around the community.