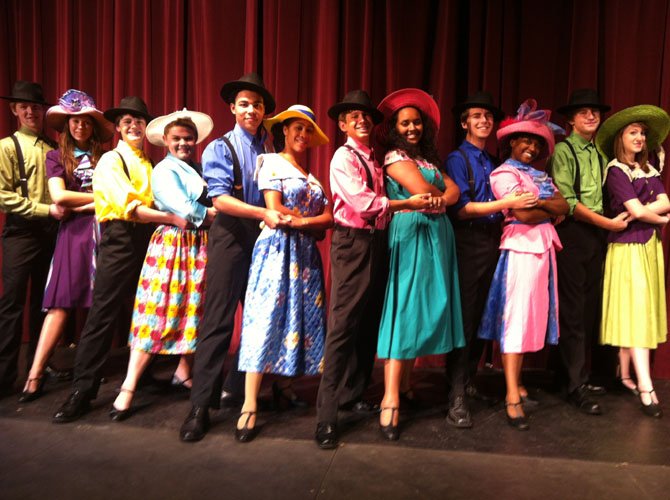 Featuring a cast and crew of 70, Chantilly High presents the musical, "Evita," about the life of Argentine political leader Eva Peron. The curtain rises Wednesday-Saturday, Oct. 16-19, at 7 p.m. Tickets are $12 at the door or $10 via www.chantillyhsdrama.com.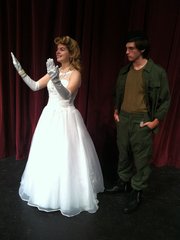 "All the students have put in an amazing amount of time and energy and I'm proud of all their hard work," said Director Shannon Khatcheressian. "I can't wait for an audience to appreciate it, as well. And the music is so notable; it's one of Andrew Lloyd Webber's classics."
Her sister-in-law, Molly Khatcheressian, will conduct the pit orchestra, and Choral Director Evan Ayars is the music director. "The show's a good mixture of theater and choral kids, so it's been a great opportunity to collaborate with him and the choral program," said Shannon Khatcheressian.
Senior Amanda Mason plays the lead role and, said Khatcheressian, "I'm thrilled because she's so talented and dedicated to perfecting her craft that she makes directing the show a truly enjoyable experience." She said the audience will also love the "brilliant costuming and bright, fun, colorful choreography. And the storyline is based on a true, historical figure, and everyone likes to see underdogs making their way to the top."
The students have been rehearsing six days a week, including seven hours on Saturdays, since school started in September. "It's a difficult show to tackle because the music's so complex, there's a lot of choreography and so many different scenes to stage," explained Khatcheressian, who did the choreography. There's also a slew of quick costume changes, including 22 just for Evita, but Khatcheressian says the finished product promises to be extraordinary.
Evita's an affectionate name for Eva Peron, and Mason describes her character as Argentina's spiritual leader. "She's shown from age 15 and a brown-haired peasant living in the sticks," said Mason. "She later has a relationship with Magaldi, a musician who wants to go to Buenos Aires, the 'Big Apple' of Argentina, where it's vibrant, colorful and lively and everyone's somebody and rich."
Peron accompanies him; but once there, said Mason, "All the men think she's something special, so she ditches Magaldi and becomes a model and a radio host and becomes relatively well-off. She then meets Juan Peron, who's going to be the new leader of Argentina, and likes the idea of having more riches and power. They love each other, so they marry and rule Argentina together; and the poor people adore Evita because she gives them money and other things they don't have."
Mason said Evita's extremely complicated, passionate, authoritative, a bit self-centered, generous and loving. "She's charming, but can also be manipulative," said Mason. "She's confident, knows what she wants and is willing to do what it takes to get it."
Calling this part "a blast," Mason said it's "daunting because she was an actual person. So I did lots of research to see how she moved and spoke. It's the most dramatic role I've ever played, and I like putting my acting skills to the test to take her from ages 15-33. "
Her favorite song's the iconic "Don't Cry for Me, Argentina," which she sings while wearing a huge, white dress and looking down from a balcony. "It's a love song from her to Argentina, and it's touching and extremely intimate — which she's not known for," said Mason. "So it's interesting to see her show her emotions and vulnerability."
"Evita's" such a dramatic show, she said, that "I think everyone will love seeing this amazing spectacle. With the music, costumes and scenery, it's an epic-type production and a huge undertaking for high-school performers."
Portraying Che Guevara is junior Michael Mason (no relation to Amanda). "He was an Argentine Marxist who helped organize the Cuban revolution and Cuban Missile Crisis and was good friends with Castro," said Mason. "He's an embodiment of the people, narrates the story and, somewhat, is Eva's conscience."
Mason said Guevara "criticizes Eva because she's not a great political leader and views her as a hypocrite who doesn't follow the ideals she says she has. So Che provides his own view of what she's really like beneath the glamour and fame."
He's enjoying his role because "I get to be sarcastic and mean and sing interesting and entertaining songs." He likes his number, "And the Money Kept Rolling In," because it's "really high-energy, challenging vocally, fast and upbeat." Mason said the show has a variety of musical genres and the audience will love every song.
Senior Austin Vassallo plays Juan Peron. "He was a military colonel who becomes president of Argentina," said Vassallo. "He meets Evita at a charity concert and falls in love. He's kind and for the people, and he fights for Evita when the aristocracy and military don't like her. He stands by her, his whole life."
Vassallo said he gets "a sense of power giving speeches to lots of people from a balcony. And working with Amanda is great — she's really talented. It's also my first, big role at Chantilly, so it's exciting." His favorite song is "She's a Diamond," his main solo. "It's when things are going bad, but Juan stands by Eva when others aren't," he said. "I really get into that song and feel it."
Vassallo called the story "powerful and moving, with the revolution, and Eva's rise to power is inspiring. And the big ensemble numbers are awesome and fun to watch."
Portraying Augustin Magaldi is junior Jason Saitta. "He's the show's 'heartthrob,'" said Saitta. "Eva used men to make her way to the top, and he was the first man with a substantial amount of power that she did this to. He's a suave, tango singer and a really sleazy guy."
"I couldn't think of a better character to play," continued Saitta. "I feel I can fit myself into his shoes. It can be challenging, at times; but overall, it's really fun." He also likes his song, "On this Night of 1,000 Stars," because "it's a tango and comedic relief the way Magaldi over-exaggerates as much as possible."
Saitta also praised the show's tech crew. Mia Rickenbach designed the set and, said Saitta, "The attention to detail is incredible. She even has 'Juan Peron for President' posters." Scenes take place inside a 1930s Argentinian bar and the president's mansion, plus on a balcony.
"And we have a great sound and light crew, plus hair and makeup people to pull it all together," he added. "It's going to be an amazing show."