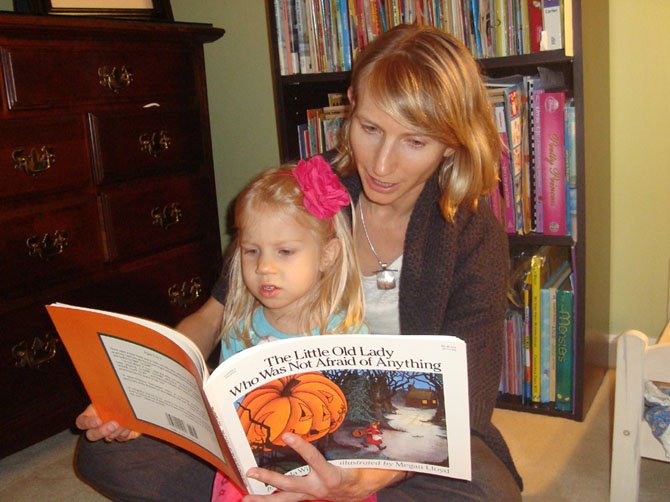 Arlington — Mark Burch, who lives in Oak Hill, recently browsed through the children's Halloween book section at a library near his
"Halloween is a time that can very exciting, but it can also be a little bit scary for small children. Halloween books can help children explore the idea of dressing up and help children to master some of their fears."
Holly Karapetkova, Ph. D., associate professor of literature and languages at Marymount University in Arlington
Washington, D.C., office. He had his three children in tow and an armload of books with covers that included carved pumpkins, willowy ghosts and witches in black hats.
"We've got about 15 books," he said. "I think the limit of books you can check out is 50 and we might reach it."
Children's literary experts say the month of October is a perfect time for children to explore their imagination, address their fears and have fun reading with their parents. In addition to traditional Halloween favorites, local booksellers say this season brings forth new offerings in children's Halloween literature.
"Halloween is a time that can be very exciting, but it can also be a little bit scary for small children," said Holly Karapetkova, Ph. D., an associate professor of literature and languages at Marymount University in Arlington. "Halloween books can help children explore the idea of dressing up and help children to master some of their fears. This is a good time to pick up a book when a character confronts and overcomes their fear."
Jill Beres of One More Page Books in Arlington says Caldecott honor book "Creepy Carrots" by Aaron Reynolds, "The Monstore" by Tara Lazar and "Zombie Baseball Beatdown" by Paolo Bacigalupi are among her favorite Halloween children's books.
"As a parent, I am drawn to books with nice illustrations and themes," said Beres. "And anything that has a nice message for kids."
Ellen Klein, co-owner of Hurray for Books!, in Old Town Alexandria, said that children between the ages of 3 and 6 might enjoy "Click Clack Boo: A Tricky Treat" by Doreen Cronin and Betsy Lewin, the same authors of the popular children's book "Click Clack Moo: Cows that Type."
Klein said children under the age of 3 would enjoy "Maisy's Trick-or-Treat" by Lucy Cousins, a sticker book as well as a storybook that introduces Halloween to young children. "It has a Halloween theme and is more of a story that is fun and funny, but not scary," she said. "It has an activity and introduces young children to what the holiday is."
Children who are old enough to read or appreciate chapter books could enjoy "Desmond Pucket Makes Monster Magic" by Mark Tatulli. "It is a fun book," says Klein.
When helping children choose books, Karapetkova recommends that parents start preparing children for the holiday early. "Children like things that are silly and things that are gross," she said. "It is fun to explore things through a book. It is a good outlet for children to explore their imagination and do things they are not allowed to do in real life." Two of her favorites are "The Little Old Woman Who Was Not Afraid of Anything" by Linda Williams and "The Candy Witch" by Steven Kroll and Marilyn Hafner.
Karapetkova recommends books that expose children to rhyme and rhythm. "There is all kinds of research that shows that children who have a good grasp of the rhyme and rhythm become better readers," she said. "Choose books that use puns, a play on the meaning of words or that include words that have multiple meanings."
Children's literature experts, including Karapetkova, who lives in Arlington, who has small children, say the most important part of reading Halloween books with children is making it a pleasurable experience. "If you sit down and read with your children and you're having fun, it will be hard for your child not to have fun too," she said. "For me, as a parent and someone who thinks about children's literature, the main thing about reading with your child is giving your child your attention and having quality fun time together because children pick up on your emotions."