The Fairfax County Police Honor Guard was established in 1980, and Sgt. Dave Kuhar has been part of it for the past 18 years. He's now the Honor Guard's supervisor and recently explained the group's duties during a meeting of the Sully District Police Station's Citizens Advisory Committee (CAC).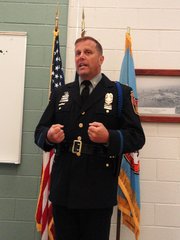 "We do everything from talking to people to presenting the colors at the [Washington] Redskins' games," he said. "We perform at Rotary Club and Boy Scout events, retiree services and school and building dedications. We also do police line-of-duty funerals, honoring our fallen heroes and their families, in Virginia and the Washington Metropolitan area."
Comprising the Honor Guard are 40 officers — including auxiliary officers — who volunteer for the job from several, different entities within the police department. The group also features a bagpiper, Patrick Briant, plus three singers, a bugle player and an electronic bugle.
"We're in the Traffic Division, under Lt. Mike Grinnan," said Kuhar. "We have a $2,000 budget, which doesn't buy a lot. All 40 members have to have the same type of gear — such as flag-staff holders and rifle slings — so we'll have uniformity in the way we look."
Furthermore, he said, in the past, they normally did 100 jobs a year; but "For the past several years, we've only done 60 a year because of budget considerations."
The group practices once a month, including rifle volleys, the flag pull and marching techniques. "Everyone learns flag protocol — how to present and maintain the flag," said Kuhar. "And we practice casket watch — standing for 30 minutes at a casket during a service, without flinching."
The Honor Guard also holds a seminar each June, and people travel from all over the U.S. to attend. In addition, said Kuhar, "We use M1 and M16 rifles and also send our teams back to the rifle range for recertification. And everybody's cross-trained to do all aspects of our duties."
FREY AND O'CARROLL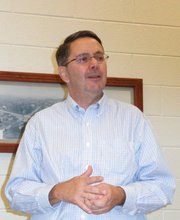 Also addressing the audience were Supervisor Michael R. Frey (R-Sully) and Capt. Ed O'Carroll,
commander of the Sully District Station. Frey began by thanking the CAC for working with both the community and the police department.
"One thing I'm so proud of is the police department's relationship with the community," he said. "Community policing works best when they work together."
Saying he receives more calls from residents about traffic enforcement than any other issue, Frey told people to call him when they have a problem he can help them solve. (He's at 703-814-7100).
He also said the county Board of Supervisors did its carryover budget and had a small surplus. So beginning Jan. 1, 2014, said Frey, "We committed money — about half a million dollars — to assist the police with their retirement." He said they also earmarked $350,000 to a traffic-safety/driver-education program "to try to get people to slow down in their neighborhoods."
Along that line, O'Carroll told the residents that, now that school's started again, the police are "stepping up traffic enforcement in the school zones to make sure the kids are safe."
He also noted that Sept. 11 marked his 24th anniversary with the Fairfax County Police Department, and he's now been commander of the Sully District Station for one year. "It's been a fun year," said O'Carroll. "And I'm looking forward to the coming year."