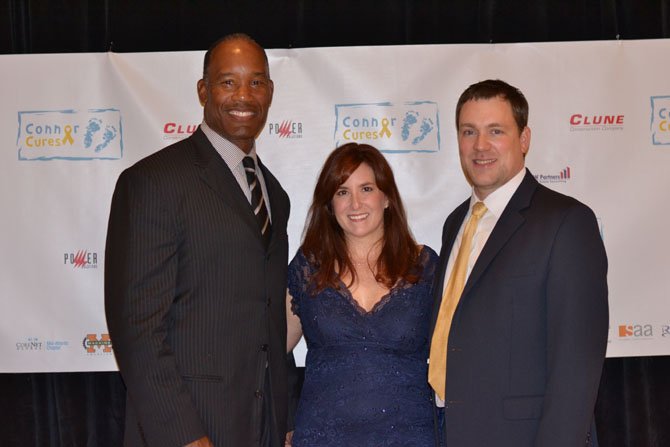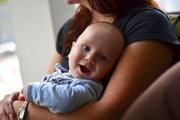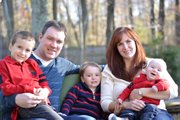 Connor Robert White was only six months old when he passed away from a rare form of childhood cancer.
Connor was born on July 6, 2012. "He was the easiest child. He was the happiest child…" said Beth White, Connor's mom. "But that's how we knew something was wrong initially. He was all the sudden fussy crying."
He didn't show any symptoms of illness until Thanksgiving Day that same year. As his symptoms progressed and after many doctor and emergency room visits Connor was diagnosed with a brain tumor. His surgeon identified the tumor as AT/RT (Atypical Teratoid Rhabdoid Tumor), a tumor that less than 10 percent of children under the age of three survive. After only six and a half weeks since his original symptoms, and three weeks since diagnosis, Connor passed away.
RESTON RESIDENTS Henry and Beth White, Connor's parents, were devastated, but they knew they wanted to do something to honor their son's life. They started a foundation to raise money to cure pediatric cancer. "We started the foundation because it just happened this past January and we just wanted to do something to help other families not go through what we went through. And it's somewhat healing for us," Henry White said. They named the foundation "Connor Cures."
Upon researching other foundations they found that only 4 percent of the National Cancer Institute budget goes to pediatric cancer research. They also found that only one pediatric cancer drug has been developed since 1980. In light of their findings they decided to devote the foundation to investing directly in pediatric cancer research.
During their search to find a pediatric cancer research organization to fund they found the Pediatric Oncology Experimental Therapeutics Investigators' Consortium (POETIC). Connor Cures hopes to fully fund a new trial with POETIC. "Essentially, we have the opportunity to work with a very new drug that has shown great promise in laboratory models of the same tumor type that affected Connor and ultimately led to his death," said Dr. Lia Gore, program leader with POETIC. "Our hope is that this new drug can offer new hope to treat this disease."
To raise money for Connor Cures the Whites quickly got to work planning events and creating a website for donations. Their largest event so far has been the Connor Cures Gala and Silent Auction that was held at the Mayflower Hotel in Washington, D.C., on Sept. 21. Charles Mann of the Washington Redskins was a special guest speaker and 72 donated items were up for auction. With the help of friends, family and many sponsors, the event raised about $150,000 for the cause.
This Saturday, Oct. 26, Concepts Created, a reclaimed wood company, will be donating 10 percent of their profits at the Vintage Holiday Marketplace at LTD 7 in Staunton, Va. The event will be held from 10 a.m. to 4 p.m. at 307 North Augusta Street.
CONNOR CURES is also working to put on a charity hockey game at Skatequest of Reston sponsored by the Reston Raiders Hockey club, which Henry White previously coached.
Having raised $175,000 so far, Connor Cures hopes to raise $200,000 by the end of the year and seeks to raise $250,000 next year.
"When you lose a child you don't want people to forget that they were here," said Beth White. "Besides trying to help other people, other families from going through what we went through, it's a way of keeping his memory alive."
For more information, and to find out how to help or donate, go to www.connorcures.org.