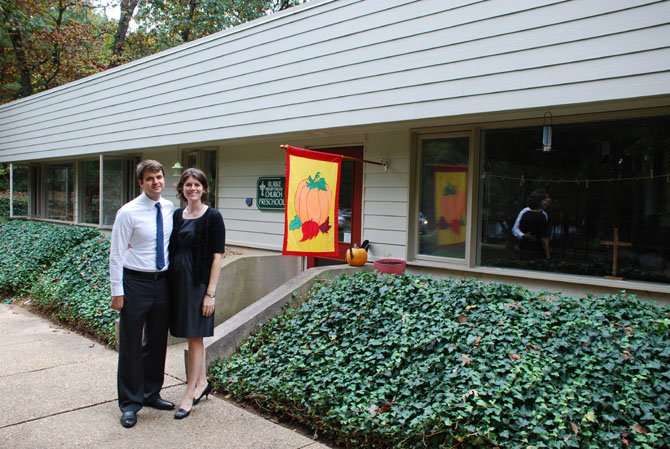 Husband and Wife Team at Burke Presbyterian
"The reality is we have the blessing of both of their gifts—individual and the gift they are together."

-- Springfield resident Susan Ariale
When Rev. Dr. Beth Braxton decided to leave Burke Presbyterian Church two years ago, after 27 years of service, replacing her was no easy task. The church Pastor Nominating Committee (PNC) convened for 15 months, considered roughly 150 applications and worked with two different interim pastors.
"Burke was very fortunate to have not only [a] wonderful previous pastor, but two really wonderful interims," said Susan Ariale, a Springfield resident and member of the PNC. "At no time did I ever feel like, 'Oh gosh, we have to wait until the new person comes?' We really hummed right along."
But ultimately the church needed a new full-time leader, and the PNC search ended with the husband-and-wife team of Reverends Jarrett and Meg Peery McLaughlin.
After coming out of seminary at Union Presbyterian in Richmond and working together at Village Presbyterian in Kansas City, Mo., the couple decided they were a package deal. Not all churches would go for that, but Burke did.
"Often the case would be—it being a democratic process—'I can't see two pastors. I don't get it,'" said Jarrett.
"To Burke's credit," said Meg, "they had some imagination. One of their taglines is scripture, from Isaiah: 'Behold, I am doing a new thing.' They've been a church that's embraced new ideas, change. That is pretty unique in churches."
NORTH CAROLINA NATIVES, Meg and Jarrett met while attending UNC-Chapel Hill and being active in the Presbyterian Campus Ministries organization. They began dating near the end of college and were married in 2004. Jarrett graduated in 2000 with Meg right behind in 2001.
Meg went straight to seminary while Jarrett first worked in local youth ministry, then took some time to tour the western United States and Europe, and pursued mission work in Haiti with the group Wings of Hope. He returned to seminary and graduated in 2006, one year after Meg.
In the fall of 2006, the pair received their first "call" to work as associate pastors on a seven-pastor staff at Village Presbyterian Church in Kansas City. The 4,800-person congregation gave them ample freedom and opportunity to develop their own leadership skills and specialties. Meg took to pastoral care; Jarrett excelled in youth ministry and mission work.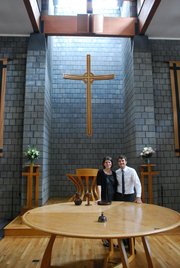 BEFORE LONG, THEY DECIDED to begin looking for new chances to preach more and "set the vision" at a church in more senior roles. A friend who was once an associate pastor at Burke—a congregation of roughly 650—alerted them to the church's opening and convinced them it would be a good fit. They wasted little time in contacting the Burke PNC, and were eventually invited for an interview.
"Having done interviews," said Jarrett, "we were struck that the first question they asked wasn't 'How are you going to make our church grow, supervise staff?'—nuts and bolts. They asked, 'How do you tell the good news in a Good Friday world?'
"That's some theologically loaded language there," he continued. "In a world that's governed by bad news—violence, death, poverty. When that's the main transmission, where do we stand as people of faith in the midst of that, and what testimony do we have to offer that can in any way compete? It was a theological question that grew out of their deep trust in their own faith, rather than some place of anxiety."
The Burke PNC was equally impressed. "They were very welcoming, familiar," said Ariale. "They felt comfortable, while at the same time they had ideas that were challenging: Let's think about ourselves differently. Be hopeful, and look forward in a fearful world."
She and the rest of the PNC also listened to recorded sermons of both Meg and Jarrett. "I continued to feel that conviction that these were people I could relate to," said Ariale. "They could be guiding, be the voice of God for me."
BRAXTON AND THE INTERIM pastors had hardly left the church in bad condition, in need of saving by the McLaughlins. On the contrary, Meg and Jarrett were blown away by the diverse membership, the commitment to mission, and the caring for and education of young people.
"Rainbow is one of the better children's programs I've seen," said Meg. "It's a real strength."
"They do a lot of emphasis on formation of young people," added Jarrett. "But it's also open. We say 'formation,' it's not like indoctrination. When you hit sixth grade, doubt is natural, it's normal. They create some space for that. I think it's healthy.
"It's not so much 'Let's fix something that's broken,'" said Jarrett. "It is a healthy place. We don't understand that's necessarily our calling here."
"For us, a lot of what we hope this year will be is learning the people," said Meg. "Then figuring out together: How do we live out that good news? It's not as if we've come in, guns blazing, to do this, this and this."
For the foreseeable future, the couple will divide duties largely down the middle, each working three-quarters time. They alternate Sundays preaching and split administrational tasks—at least until the twins they're expecting arrive in the spring.
"This year it's easy because the babies are coming before Easter," said Meg. "So I'll do Christmas. The decision was made for us."
Even with the prospect of losing one half of the pastoral team for maternity, Ariale and the congregation think the future of the church is bright with the couple at the helm.
"Now there's this infusion of excitement, great ideas and wonderful, wonderful preaching," she said. "The reality is we have the blessing of both of their gifts—individual and the gift they are together."