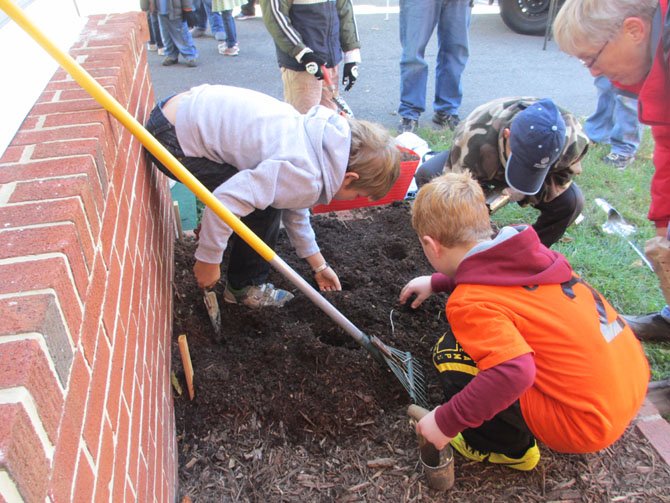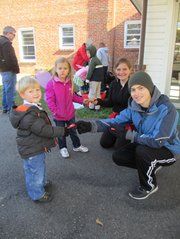 The Vienna Farmers Market closed its 2013 season with assistance from the Ayr Hill Garden Club and children visiting the market on Saturday, Oct. 26. To thank Faith Baptist Church for its partnership and use of church grounds, market master Sarah Jane Brady teamed up with the garden club to plant spring bulbs in a little garden out back.
Brady affixed glittery nylon wings to little girls participating, and the young boys were given Halloween gloves. From all appearances, garden fairies do not do the actual digging. The boys took to the shovel and trowels more eagerly.
"It's a learning experience for the kids and it's a dedication to the church from us," said Brady. Faith Baptist Church came to the rescue in 2012 when the Optimist Club of Greater Vienna, operators of the Vienna Farmers Market, were without a home for the market. The market runs on church grounds, front to back, and frequently, during the market season, Faith Baptist Church hosts family activities.
Girl Scout cadet Quincy Behning and schoolmate Will Sevy, both middle-schoolers, spent the morning at the market handing out Halloween candy to children and helping people carry market bags to their cars. The students worked to count off school community service hours. Cathy Bierman and Kata Bartoloni-Tuazon of the Ayr Hill Garden Club showed the young planters how to plant the bulbs in the soil.
The garden club sold spring bulbs from its own booth to help raise funds to support the club's community gardening projects. Ayr Hill Garden Club maintains five Vienna gardens, including the plantings around the caboose, at the Little Library and at the entrance to the W&OD trail fronting Maple Avenue at Whole Foods.
"Because we're holding our market at the church, we're giving something back to the church by planting this garden," said Brady. "The children are learning about gardens and we're thanking the church."
The Vienna Farmers Market is open from the first Saturday in May through the last Saturday in October. To learn about the Optimist Club of Greater Vienna and their programs, go to www.optimistclubofgreatervienna.org/.
—Donna Manz