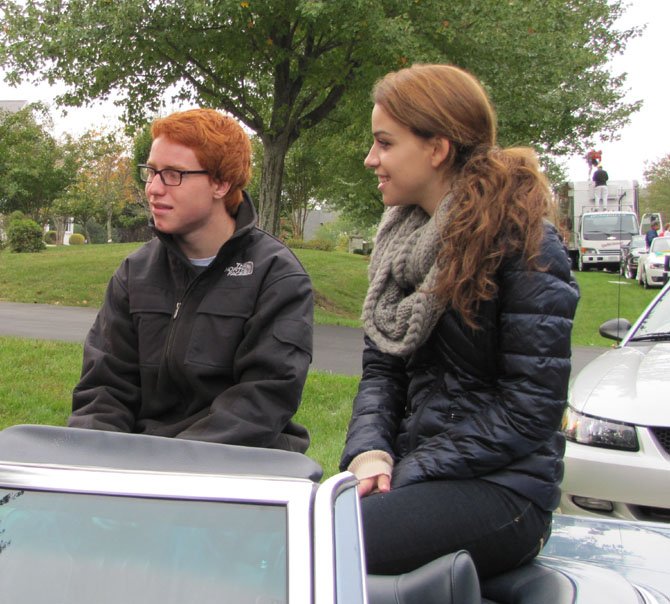 Potomac — Matt Schick is editor-in-chief of Landon's yearbook. He takes AP Statistics, AP Economics, AP Psychology, Chinese V, and is preparing an AP art portfolio.
He teaches Chinese to fifth graders and has taught Hebrew School to elementary school students at B'nai Tzedek every Sunday since his seventh grade.
Schick is helping design a new course at Landon with staff called "The School of Athens," that will bring together Landon's top talents in various media to critique and discuss each other's works.
He assisted the Landon Studio Arts Department in coordinating the Best of the Independent Schools Art Competition.
He has played in the same band since he was 10 years old called "Rip Tide," and the band has raised money for various charities including the Childhood Brain Tumor Foundation.
Landon teachers and administrators call Schick a "talented student, an incredible painter and an excellent musician."
But "what really sets him apart is his authentic kindness," says Andy Katz, Landon School's Class Advisor to Juniors and Seniors.
"With gentleness and humor, Matt makes everyone feel cared for and welcome. He is growing into a leader whom others look up to," said Katz. "His model of kindness and 'other-regarding' is certainly helpful to his peer group and to faculty as well."


THE POTOMAC CHAMBER of Commerce named Schick and Marissa Michaels of Holton-Arms School this year's "Youth of the Year."
Schick and Michaels rode on the back of a convertible in last week's Potomac's Day Parade.
They will be honored at a dinner celebration in November at Normandie Farm Restaurant along with Bob Hanson, Potomac's Citizen of the Year, Grand Marshal Jean Roesser, and Business Person of the year Bob Sickels.


MICHAELS EARNED a perfect 800 on the Writing portion of the SAT, a 760 in Math and 730 in Reading, and during her senior year is taking AP Psychology, AP Government, AP Statistics, French IV and a course called "Banned Books."
Michaels is editor-in-chief of Holton Arms yearbook, manager of the varsity volleyball team, and co-president of the school's Peer Counseling group, 26 juniors and seniors who guide students through the transition to Holton Arms Upper School. She won first place for photography in the Washington Area Independent Schools Art Competition.
She is a first-grade teacher's assistant at Washington Hebrew Congregation's religious school, a tutor for the Latino Student Fund, and juror and clerk for the Montgomery County Teen Court.
She is a photographer who sells portraits and other works and has donated money towards "To Write Love on Her Arms," a non-profit organization that raises awareness of psychological disorders and raises funds to sponsor therapeutic programs. Michaels organized Holton-Arms chapter of the group to help raise awareness of psychological and emotional issues affecting youth, including depression, anxiety, self-harm and addiction.
"This forum provided comfort and relief for individuals by demonstrating that they are not alone," according to Michaels.


SINCE FRESHMAN YEAR, Schick has been a member of Landon's Ally Council which helps make the school community open and safe for all. He is in charge of "Pennies for Patients" that benefits the Leukemia & Lymphoma Society.
Last summer, Schick spent three weeks in South Africa, Mozambique and Swaziland working at several orphanages painting and building fences in community centers.
"Right now, my dream future would be to travel the world, see as many different cultures and communities as I can, learn from them, and do everything I can to help those in need," according to Schick. "After seeing a school in rural Africa, whose curriculum was based on sustainability and providing for the less fortunate, I was truly inspired. If I could do one thing with my life, it would be to bring this idea to underpriviledged countries around the world by forming a world-wide coalition of schools."
"If that doesn't work out, I would love to be a psychologist of some kind," he said.
"Matt Schick is a standout among his peers," said Katz. "Matt is an intelligent, interesting and articulate young man who is enormously likeable, and who genuinely cares about the other people in his community."