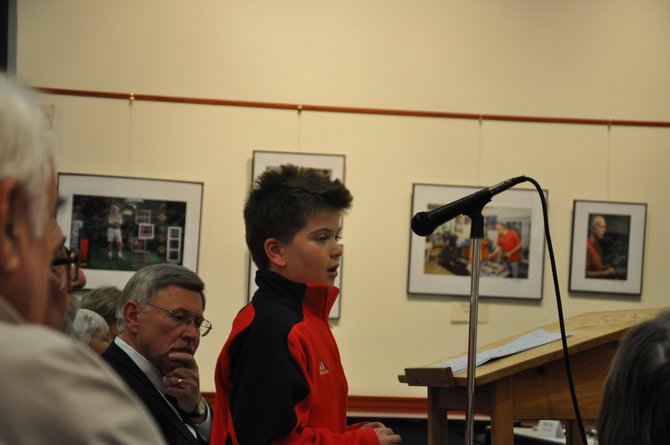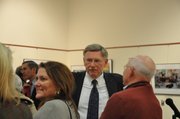 The Fairfax County Public Library Board of Trustees committee on The Future of the Library, officially the "Evaluation and Communications" committee, held a public meeting in Great Falls on Monday, Oct. 21. The committee was appointed by the library board last month after the Fairfax County Board of Supervisors, on the initiative of Dranesville Supervisor John Foust, asked the library board to obtain input from the public and library staff before making any new, comprehensive changes to the library's current operational structure and staffing. Library Director Sam Clay was in attendance and addressed the meeting. Director Clay and the board will be making a presentation to the Board of Supervisors on Nov. 19.
The purpose of the meeting was for the committee to hear and consider the concerns and suggestions that library users and community members have about the current state of the library and the library's future planning. Many of the speakers questioned whether the foundation of education in Fairfax County is being eroded.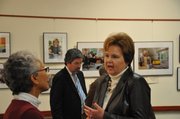 THE LIBRARY STRATEGIC PLAN for 2013-2015, approved in September 2012, states that the library's mission is to "educate, enrich and empower our diverse community. That is our purpose, our unique reason to exist. No other organization aims to do that for all residents." One of the library's primary strategic goals is to "enhance Fairfax County's investment in education" in support of the Board of Supervisors' stated highest priority. In addition to serving residents of all ages, the library identifies itself as a partner of public and private schools, the wider education community and the business community. All of those stakeholders were discussed at Monday's public meeting.
In his remarks to the committee, Fairfax County Federation of Teachers President Steven L. Greenburg said that "teachers love and respect, and want fully funded, your libraries, just like your schools. ... Your teachers value both the community piece and the education piece that our libraries provide."
A number of people commented on the important role that the library plays in supplementing and supporting public and private school programs after school hours and when school libraries are not open. Forestville Elementary fifth-grader Grayson Miller appreciates having library resources available to him beyond his school library collection. "If the school library doesn't have a book, you don't have to go on [a web] site and buy the book because that might take awhile," says Miller. "You can just go to the library, and even if they don't have it, you can just request it and it will come from another library a lot quicker than buying it."
Community member Douglas Cobb told the committee, "from my standpoint, the library is probably the most important function we have after … school. … the library has to be the intermediary between our formal education and the rest of what we really need to know to survive and to flourish in an adult life."
Bill Canis, vice-president of the Great Falls Citizens Association and a motor vehicle industry analyst for the Library of Congress, spoke in his private capacity as a resident of Great Falls. "This is really a 'knowledge-worker' county. … Fairfax County is knowledge-based," said Canis. "If we are a county of knowledge-workers, the library is one of the places knowledge-workers go to learn new things."
SEVERAL SPEAKERS made comparisons to Montgomery and Loudoun counties, and the District of Columbia. Great Falls resident W. Scott Railton, Esq. expressed concern that, "we will degrade our libraries … putting us behind Loudoun County, behind Montgomery County, but most importantly of all, will undercut the quality of services that Fairfax County provides to its library patrons and to its citizens as a whole." Michelle Miller, president of the Friends of the Great Falls Library, echoed Railton's concerns. Miller said, "I have been touring some of the other counties' libraries. They are impressive. … It is amazing what all the other counties are investing in their libraries and I do somewhat wonder where is Fairfax putting their focus?"