"Somebody helped me, so I'm happy to have the opportunity to help someone else and continue the cycle."

—Washington Redskin Pierre Garçon
With their only child undergoing treatment for brain cancer, besides being concerned about her health, Craig and Tammy Sankner also worry about paying the medical bills. But things got considerably brighter for them last week when they received a check in daughter Tara's name for $10,000.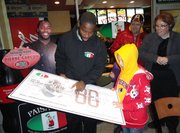 It was donated jointly by Washington Redskin Pierre Garçon and Paisano's Pizza owner and founder, Fouad Qreitem, outside the Paisano's Fair Lakes store. The presentation was Thursday night, Oct. 24, in front of Tara's family and friends.
All during September, Qreitem donated a portion of all his pizza locations' sales to Tara. And after he brought the 8-year-old Fairfax girl to Garçon's attention, the wide receiver wanted to do something, as well.
"Somebody helped me, so I'm happy to have the opportunity to help someone else and continue the cycle," said Garçon. After presenting Tara with an oversized, ceremonial check, he pointed out the many signatures of his teammates adorning it. And he stayed awhile to sign footballs and jerseys for his fans, after signing a Redskins football for her.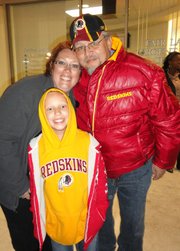 Garçon even visited Tara at her home last month, which was also a big thrill for her. So before he arrived at Paisano's, she said, "I'm happy and looking forward to seeing Pierre again." Actually, the event was supposed to be a surprise but, said Tara, "I overheard my mom talking about it on the phone."
Surprise or not, it was fun for all involved. Attendees included GMU's girls softball team and Tara's teammates in the Vienna Girls Softball League, plus fellow Chantilly High alumni like Tara's mom, who graduated in 1988.
"It's awesome and overwhelming," said Tammy Sankner, there with Tara's dad. "And it's great to see all the girls."
Qreitem has worked with Garçon for two years. Whoeve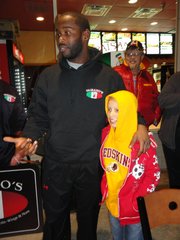 r orders the most Paisano pizzas during the football season has them delivered by Garçon. Besides their efforts helping the Sankners financially, said Qreitem, "It helps raise awareness of childhood cancer. Being part of the community, I wanted to help them. And I have an 8-year-old daughter, too, so it definitely hits home."
Tara has an astrocytoma, a treatable but inoperable form of brain cancer. So her parents hope Qreitem's and Garçon's generosity will also make people realize the great need for more fundraising for children's cancer research in general.
Tammy Sankner said their donation will "help tremendously with both medical and non-medical expenses for Tara's care, such as gas, parking at the hospital and the nonpaid time I have to take off from work. I'm in shock; it's just wonderful."
After the event, she said, "Tonight was just amazing. I'm speechless at the outpouring of all the support from the community. And I thank Fouad and Pierre for doing this for Tara."