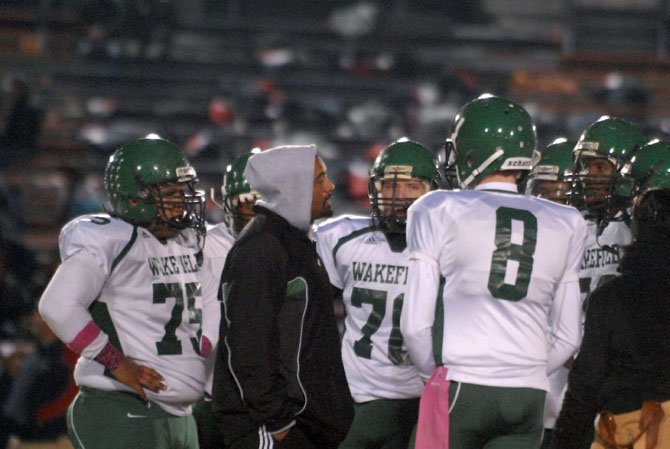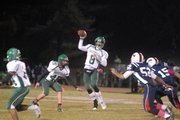 With fewer than 50 athletes suited up and roughly as many fans in the visiting bleachers, the Wakefield football team entered Friday's contest at Stuart High School in search of its first three-win season since 2008.
On the field, the Warriors showed promise but made too many mistakes. They had a punt blocked. They lost multiple fumbles. They trailed 21-0 at halftime.
On the sideline, a Wakefield assistant coach instructed players to improve their body language. Among the Warriors' Kelly Green helmets, two players wore white head gear, donated by fellow Arlington Public School Yorktown. And the Warriors watched their deficit grow.
Wakefield lost to Stuart, 41-7, on Oct. 25. It was the Warriors' sixth straight defeat and fourth time in the last five games they surrendered at least 40 points.
Wayne Hogwood is familiar with the struggles of the Wakefield football program, which hasn't produced a .500 record since 1987 and hasn't experienced a winning season since 1983. Hogwood, a 2000 graduate of Wakefield High School, played quarterback for the South Arlington school and set the program's single-season passing yardage record, a mark that stood for 12 years. He went on to play at Division III Shenandoah University, where he started at quarterback for three seasons and led the school to the 2003 Dixie Conference championship.
After returning to Arlington and spending seven seasons as an assistant coach at Yorktown, including four as defensive coordinator, Hogwood took over as head coach of the Wakefield Warriors, hoping to turn around his struggling alma mater.
He was well aware of the challenge that lay ahead.
The program suffered from a lack of depth and experience. Many of the Warriors' best athletes were in their first or second seasons playing football. Shortly after accepting the head coaching position, Hogwood, a physical education teacher at Jamestown Elementary School, set up interest meetings. He said his familiarity with the Wakefield High School staff helped with his transition, but the fact he works outside the building limits his ability to interact with athletes. Hogwood said Yorktown head coach Bruce Hanson and Washington-Lee head coach Josh Shapiro also helped him along the way.
"The numbers are low because there hasn't been a lot of success in the past. … Because the numbers are low, you still get kids that can play, but the football IQ isn't that high. … The guys that come out work hard, [but] they don't have a lot of experience."

— First-year Wakefield football coach Wayne Hogwood
"The numbers are low because there hasn't been a lot of success in the past," Hogwood said. "… Because the numbers are low, you still get kids that can play, but the football IQ isn't that high. … The guys that come out work hard, [but] they don't have a lot of experience."
This season, the Warriors have nearly 50 athletes in the program, giving them enough to practice but not enough to field a junior varsity team. Hogwood said the turnout was better than expected, forcing the team to borrow helmets from Yorktown. He is hoping to have 70 athletes on the roster in the near future.
It didn't take Hogwood long to earn his first win with Wakefield as the Warriors started the 2013 season with a pair of victories, beating Marshall, 19-9, and George Mason, 41-34. It was the program's first 2-0 start since 1986.
The Warriors held the advantage in athleticism against their first two opponents, but since then Wakefield has struggled, losing six straight.
"We've been competitive in a lot of games, fighting and clawing against teams that have more experience than us," said Hogwood, whose top players are sophomores and juniors. "… [But] even though the scores don't show it, we've gotten better at playing the game of football throughout the year."
One of the reasons for the team's improvement is junior quarterback Riley Wilson, who transferred from Yorktown after his sophomore season. The 6-foot-4, 185-pound Wilson split time at quarterback on the Patriots' JV team last year and contributed on special teams at the varsity level.
Wilson said he wants to play football at the college level and playing quarterback is his best chance to get there. Transferring to Wakefield gave Wilson a chance to start at the varsity level.
"Wakefield is a better opportunity for me to show what I could do at quarterback on the field," he said. "… One of my favorite Yorktown coaches (Hogwood) is the head coach and I wanted to help them out."
What kind of a coach and person is Hogwood?
"He's probably one of the nicest and most positive guys I've ever met," Wilson said. "At Yorktown, he was one of my favorite guys to be around and he supported me at quarterback from Day One. …He has a good mix between being strict and hard-working and knowing how to relate and be a friend to the kids."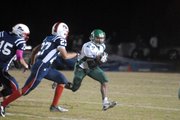 Against Stuart, Wilson passed for 138 yards and a touchdown.
"Riley is a great kid that kind of came with me when I left Yorktown and wanted the chance to start at the quarterback position," Hogwood said. "When I was at Yorktown, he was a rotating JV quarterback … but he didn't get as many reps as he would have liked to. … He's being thrown to the fire. He's got a big arm, he looks the part … [and] he's way more mobile people than people think."
After being part of the winning culture at Yorktown, Wilson said he's grown frustrated at times during his first season at Wakefield, but he knew what he was getting into.
"I knew it was going to be a struggle, but I knew that Hogwood was going to be able to connect with them and show them how a good program worked," Wilson said "… I knew they would have some athletes … but they would have to learn. Clearly we've gotten better and that's all that we could hope for."
Also contributing on the offensive side of the ball have been sophomore running back Leon Young (5-7, 160), sophomore Ryan Jones (5-10, 280), sophomore center Miles Kirby (6-2, 240) and junior tight end Howard Smith (6-3, 195). Receiver Markus Boyd caught a touchdown pass against Stuart.
On defense, sophomore linebacker Kevin Greenwell (6-2, 190) has been a standout.
"He's all over the field," Hogwood said. "He's a high-energy guy. … He can move. He's got a motor in him. He's a young guy. He hasn't played very much before, [but] he's learning on the fly. … He's been getting a lot better throughout the year."
Junior linebacker Jamal Zaggout (5-9, 160) has also been a contributor on defense.
Wakefield will have two more chances to earn its third victory as it closes the regular season with a home game against Washington-Lee on Friday, Nov. 1 and a road contest against Mount Vernon on Nov. 8. However, the Warriors' opportunity to improve extends past the two games and into the offseason.
"It would mean a lot (if we could turn the program around)," Wilson said. "... I know this upcoming [offseason] a lot of the younger kids are going to be working hard."