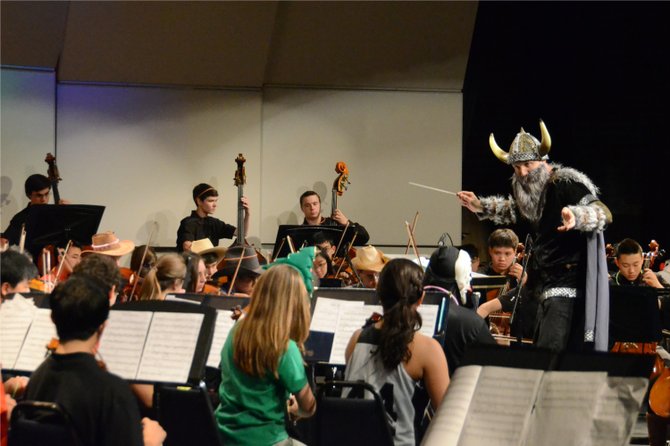 In a night full of spooky music, costumes and theatre, the Langley High School Orchestra presented a thrilling concert to a full house on Thursday, Oct. 24. The Symphonic and Chamber Orchestras opened the concert with film scores from "How to Train Your Dragon" and "Harry Potter and the Deathly Hallows," boosted by several band members in Superman and Batman costumes. Fine acting from members of the theatre department prepared the audience for the freshman orchestra's pieces, "The Evil Eye and the Hideous Heart," and "Two Scenes from the Hallow." In character as the Corpse Bride, Lyric Yu played a piano duet with Theron Masters before she disappeared, and Masters took over the piano with a thundering rendition of "Themes from Pirates of the Caribbean."
The sophomore orchestra, notable for many violin and viola players dressed as cowboys, cowgirls and Indians, performed
"Ghosts of Brandenburg." The Philharmonic and Chamber
Orchestras kept up the Halloween mood with "October" and
"Incantations." During the concluding piece, Michael Jackson's "Thriller," a special appearance by Justin Nguyen and Henry Takane enabled the high school students to see the moonwalk and other iconic dance moves popularized before they were born. Said the father of Kurt Tran (senior violinist), "This was great! I loved the Michael Jackson 'Thriller;' it really brought back memories."
According to audience member Caroline Cassidy, fifth grade cellist at Spring Hill Elementary School, "The concert was cool, especially because the music was so fun and exciting. I cannot wait until I will be able to play fun music like that in orchestra at Langley."
By including volunteer musicians from the band, the string players had the experience of playing in a full orchestra.
Sophomore Kerry McConnaughay, french horn player, commented: "I thought the orchestra concert was great in that everyone could participate, and especially being part of the band, I really felt part of the whole group. The concert had music for everyone to enjoy and the theme made it super fun!"
Krista Hackmeier, a junior theatre student who read a passage of scary literature at the concert said, "I think it's wonderful that orchestra director Dr. McCormick reached out to Ms. Karasek (the new Langley HS theatre director) to put together this concert, which combined the talents of a few different departments. Seeing the inner workings of an orchestra concert was fascinating and I had such a great time working with the musicians and other actors."
As senior viola player Amelia Sugianto said, "I'm so happy, the concert really brings us together and the orchestra is like a family."