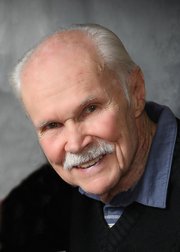 William John (Bill) Hafer of Knoxville, Tenn., formerly of Springfield, died on Tuesday, Oct. 22 after a long battle with Alzheimer's. Hafer was preceded in death by his parents, William F. Hafer and Ann Schneider Hafer. He is survived by his loving wife, Marion Imfeld Hafer, of 68 years. They were married in Union, N.J. on Dec. 24, 1944. Hafer is lovingly remembered by his son, Steven Hafer (Maria) of Jersey City, N.J., and daughter, Lynn Austin (Ron) of Knoxville, Tenn. His grandchildren are Heather Hafer Meads (Michael) of Lexington, Va., David Hafer (fiance Rachel) of Marlton, N.J., Kelly Adamczyk Gira of Knoxville, Tenn., and Leslie Adamczyk, of Knoxville; his great grandchildren are Ben, Joey, Jackson and Leia Meads. Hafer was born in Newark, N.J., on Aug. 20, 1922. He graduated from Union H.S. in 1940 and went on to Casey Jones School of Aeronautics. He served two years in the Army, stationed in Germany during WWII. He returned to his career at United Air Lines and distinguished himself as an aircraft maintenance manager, simultaneously responsible for three regional airports, Washington National, Dulles Int'l and Baltimore Int'l.
He retired in 1985 and continued to enjoy playing tennis, flying, playing his guitar and spending time with his family at the Jersey shore. Hafer's strong work ethic, quiet confidence, great sense of humor and love for his family will be greatly missed but will remain in our hearts forever. The family would like to express their deep appreciation to the staff at Manorhouse Assisted Living for their compassionate and professional care given to him in advanced stages of his illness.
In lieu of flowers, memorial contributions may be given to www.alztennessee.org. Online condolences may be made at www.clickfh.com. Click Funeral Home Farragut Chapel, 11915 Kingston Pike, is serving the Hafer family.