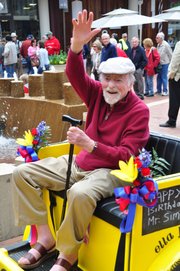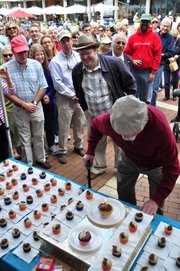 Reston founder Bob Simon, 99, has sent the Reston Connection the following welcoming message to the newcomers to Reston area:
"I believe you will find you have moved to a friendly place. Your neighbors will want to get to know you no matter how old or young you are and regardless of the color of your skin or the size of your bank balance. The 50 miles of paved pathways within Reston make it possible for you to get around on foot or on a bicycle. You can meet people and make friends on the pathways and you can enjoy the natural open spaces that wind through as they connect to the five Village Centers.
There are many other ways of settling in. For the physically vigorous, a pretty full range of sports exist—swimming, tennis, field sports, ice-skating, and, within a reasonable driving range outside of Reston, horse back riding and hiking. For stimulating the mind:
Our library is one of the best in the state

We have three community centers: a) the largest, located in the Hunters Woods Village Center, has a fully equipped 300 seat theater, craft shops, meeting rooms and a swimming pool; b) the Lake Anne Center with the Rose Gallery for art exhibitions and community meetings also has a ceramics studio with potters wheels; and c) there is the Southgate Community Center with its gymnasium and meeting rooms.
Besides all these the YMCA has numerous facilities including a separate teen center. Outstanding is the Y's "out of school" program providing activities and supervision for children's weekdays, weekends and holidays, all the times they are not in school.
This catalogue would not be complete without special mention of Reston's two plazas.
[In Europe, as well as on the other continents, the traditional gathering places for the local people, are the plazas—paved areas that exclude motorized vehicles, areas that are enclosed by two or three story buildings with bistros and other retail establishments on the ground floor. Plazas are made for social interaction. It is hard to understand why plazas were not part of the urban or suburban scene from centuries back. Strip shopping centers and air-conditioned malls are no substitute for plazas.
For Reston's first two decades Lake Anne Plaza proved to be the gathering place for many of its citizens.

With the arrival of Fountain Square in Town Center, Restonians had a powerful magnet to draw them in together.
Bob Simon's Favorite Memories and a Timeline of Reston
Reston's founder, Bob Simon, joins the Reston Connection's Insiders Guide by sharing his list of top 10 favorite events in Reston:
Events
1960 — Signing of contract to purchase 1,750 acres of farmland and woods located between DC and the airport under construction (to be named Dulles)

1962 — Adoption by Fairfax County Board of Supervisors of Residential Planned Community Ordinance (RPC)

1964 — Singer Electronics Laboratory and Air Survey Corporation open for business. First residents move in.

1966 — Official dedication with presentations by Poet Laureate Steven Spender and NYC Parks Commissioner August Hecksher, interior Secretary Stuart Udall and representatives of 37 countries with "New Towns"

1997 — I return to Reston and move into condo on 13th floor of Heron House

1998 — I meet Cheryl Terio

2001 — Opening of the Reston Branch of the YMCA

2009 — Dedication of Nature House at Nature Center

2010 — Asian Festival and tennis tournament at Brown's Chapel

2014— Metro comes to Wiehle Station
Places
My bed in 1301 [Heron House] — I love to sleep and nap

Lake Anne Plaza (officially designated Washington Plaza) — modeled after plazas throughout the rest of the world as the social glue of communities

Jasmine and Montmartre restaurants on Lake Anne Plaza — good food, reasonable prices

Pathways going all around Lake Anne — beautiful views, lovely gardens

Fountain Square in Town Center — a true gathering place with its pavilion for skating in winter and events the rest of the year; restaurants and shops

Nature Center — 70 acres of natural beauty and its Nature House for permanent exhibits and frequent classes

Center Stage at Reston Community Center, Hunters Woods — a fully equipped stage with orchestra pit, seating 300 and offering a full schedule of concerts, plays and events

Reston Regional Library

The park located just East of GRACE [Greater Reston Arts Center]

New tennis courts for small children converted from two regular courts located on Washington Plaza W.