Q: Being mayor of the City of Fairfax has to be the ultimate "insider" position. What tips do you have for someone new to the city?
A: Volunteer, volunteer, volunteer! The best way to get to know your new community, and to get connected and engaged is to volunteer. There are so many boards, festivals and community associations in the city. I would suggest someone new to town check out our new website, which lists a number of great ways for newcomers to get involved.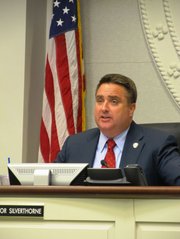 Q: Do you have a favorite restaurant or mom-and-pop bakery?
A: Believe it or not, the City of Fairfax has 180 restaurants, and I have done my best to go to as many as I possibly can. What I think is special is that we have a great variety of ethnic restaurants, something for every taste. Without picking, there really is a restaurant for everyone. If you haven't been to P.J. Skidoos in a while, you might notice something new on their menu. They have a "Mayor Scott" burger. I think it's bacon cheeseburger.
Q: Do you have a favorite park, bike or hiking trail?
A: I grew up adjacent to Daniels' Run Park, and it's always been my favorite. It's quiet, and has great biking and walking trails. You may not know this, but I was the "father" of the open-space initiative to devote 20 percent of land to parks. There are several other parks I like, but Daniels Run is still the prettiest and quietest park.
Q: Is there an organization or group you would recommend that newcomers join?
A: I think it depends on the person, but we are fortunate to have many strong service organizations. There's The Rotary, The Garden Club, Kiwanis Club, etc. We have so many great organizations that contribute to our community. There are so many different avenues and opportunities you can take to get involved. Service organizations are a great way to get started.
Q: What are the must-see/must-do events coming up in Fairfax?
A: Our fall festival is right around the corner. We typically have about more than 20,000 people visit for the festival. Really, we have a festival or event every other month, and there's always something to do. There's the Holiday Craft Festival, Fourth of July parade and fireworks, Spotlight on the Arts, Chocolate Lover's Festival.
Q: What would be on your personal list of things to do, places to see if you knew you were moving out of town?
A: Well, there's a little-known secret at the Fairfax Courthouse. George Washington's will is there, not at Mount Vernon. I haven't seen it, but that would be on my list. Also, see the original Fairfax Courthouse, built in 1799. It's all been restored, and they host weddings and other events. Also Old Town Hall, the Sherwood Community Center and historic Blenheim are must-see places.
Q: What makes the City of Fairfax special and distinct?
A: We are in the midst of a large area, yet we retain a unique sense of place and small-town feel that larger jurisdictions lose. There's a big difference between Fairfax County and City of Fairfax. For a small city, we have a lot going on, and I think people get the best of both worlds here.
Q: Anything new and notable?
A: Actually, yes. In a few weeks, we will debut a brand new website. It is the first major redo in 10 years, and it's awesome. One of the key features is functionality. Residents can find information quickly, pay bills, look-up events, those kinds of things. I would also like it to be a marketing arm, to promote the city, new businesses and all we have to offer.
To find out more about the City of Fairfax, go to www.fairfaxva.gov.