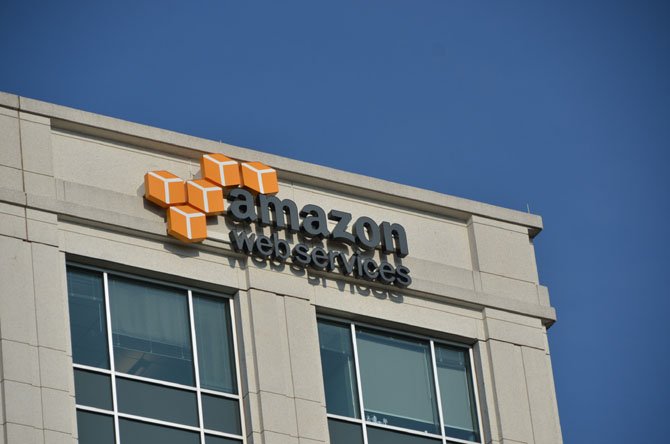 Amazon Web Services held a grand opening at their public sector headquarters on Worldgate Drive in Herndon on Monday, Aug. 26. Local dignitaries and guest speakers attended the event. The opening of Amazon Web Services at the Town of Herndon location brings an economic boost to the area and strengthens this region's status as the Silicon Valley of the East.
Teresa Carlson, VP of the Worldwide Public Sector at Amazon Web Services at Amazon, spoke about the skills Amazon Web Services would bring to the marketplace. "I really appreciate all the support we have had locally, the state of Virginia is a phenomenal places to do business," said Carlson.
Steve Schmidt, chief information security officer for Amazon Web Services, said, "This is great place to start a new office … it gives us an opportunity to continue building up our security features. … In case anyone knows any security engineers, we are hiring." Amazon will be bringing 500 jobs with the new headquarters.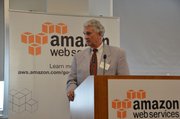 AMAZON WEB SERVICES (AWS) delivers a scalable cloud computing platform with both availability and dependability, and the flexibility to enable customers to build a wide range of applications.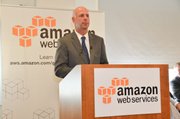 U.S. Representative Gerald Connolly (D-11) said, "AWS is setting the stage for the proliferation of ground-breaking products and services by providing startups with access to powerful computing capabilities at low costs," said Connolly.
Jim Cheng, Virginia's secretary of Commerce and Trade, praised AWS as a world-class company. He presented both Carlson and Schmidt with a flag of Virginia that had been flown over the state capital in Richmond. Delegate Tom Rust (R-87) praised Amazon for being ready to reach out to the community. "Virginia and the United States' online security are under constant attack, and it is companies like Amazon that are protecting us. I welcome Amazon and we are so happy you chose Herndon," said Rust.
Amazon AWS had reached out to local arts groups including the Council for the Arts of Herndon and Herndon Foundation for the Cultural Arts, inviting them to do an art installation at the Herndon office. Works by local artists were on display where the reception was held after the ceremony. Mercia Hobson, vice president of the Board of Directors for the Herndon Foundation for the Cultural Arts, was one of the team leaders of the art project.
"The art project was a win-win for everyone involved," said Hobson.
HERNDON MAYOR LISA MERKEL said, "Herndon prides itself on its small town charm … we see ourselves as the next generation small town. Amazon is the type of business we hope to continue to attract."
Speakers also included Supervisor John W. Foust (D- Dranesville) and Gerald L. Gordon, president and CEO of the Economic Development Authority in Fairfax County. Gordon said that Amazon AWS was an excellent addition to the economic infrastructure in Fairfax County. He mentioned that the town of Herndon is also headquarters to Volkswagen of America, Inc., and over the past several years companies including SAIC and Hilton Hotels Corporation have also decided to move their headquarters to Fairfax County.
To learn more about Amazon AWS, visit aws.amazon.com.