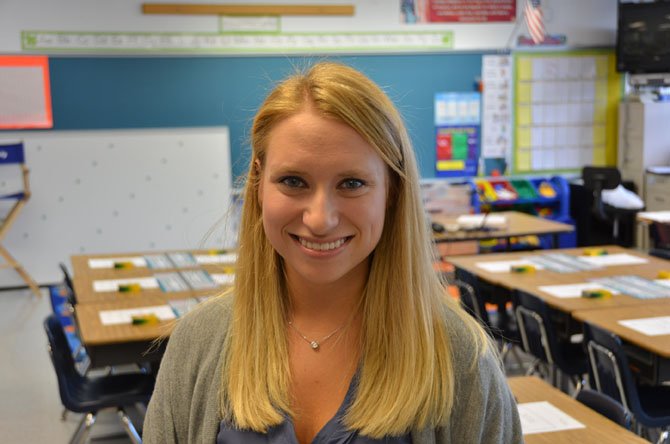 On Tuesday, Sept. 3, parents, students and faculty came together at Churchill Road Elementary School in McLean for the first day of school. Danielle M. Mazurowski, a music teacher for nine years at Churchill Road was at one of the doors greeting people as they entered into the cafeteria. "It is always a great day, the first day of school," said Mazurowski.
David Suchoski, one of the school's first grade teachers was preparing papers for the day's activities. "It is always exciting and wonderful to have a new start. I am just as nervous as the kids," said Suchoski. A resident of Falls Church, this is Suchoski's 28th year teaching at this school. Suchoski previously taught first, third, and fourth grade, and welcomes the return to teaching first grade classes.
"By far you see the most growth, both intellectually and socially, in kids during this time. They may enter in first grade and not be able to fully write their names and when they leave they will be able to read," said Suchoski . "It is refreshing to be in a situation where you make an impact with the kids. It is a great deal of work but the benefits outweigh the challenges."
First grade teacher Elizabeth Diffie was also preparing for the day's activities.
Diffie has been teaching on and off for thirty years, and has ten years teaching experience at Fairfax County schools. "I love this community, it is warm and has caring families, and a fabulous staff of teachers. We are also very involved in ecology and recycling," said Diffie.
The school has an active Eco Team, and redistributes unopened food to local food banks. Churchill Road is proud of its Enviroment-Based Education Program and the connection it makes with students. "We have a winter garden and now have pumpkins growing. First grade is all about helping students fall in love with school and the process of learning, inspiring students so hopefully they will want to continue learning," said Diffie.
Teacher Mary Lynn Robosky was looking forward to the first day of school.
"This is my first year teaching first grade at this school," said Robosky. This will be Robosky's third year at Churchill Road Elementary, where she has previously taught other grades.
"We are looking forward to a lot of hands--on experience… being a first grade teacher, has been a dream of mine. My first grade teacher, Ms. Helman, was so memorable. You always remember your first grade teacher," said Robosky.
Some parents brought cameras to record the moments their children returned to school. "We are super excited, and can't believe our son is already in the first grade," said local resident Trita Parsi. "I think this is really one of the best schools in the area," said parent Lucy Sum.
To learn about Churchill Road Elementary School, visit their webpage at: http://www.fcps.edu/ChurchillRoadES/.