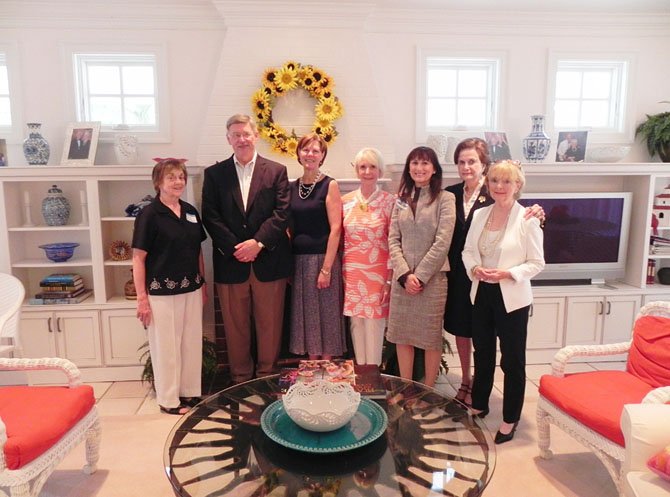 The Woman's Club of McLean held its annual "Christmas in August" Kickoff Tea on Thursday, Aug. 22, to preview its 47th annual Holiday Homes Tour in early December. This year's tour will have the theme of "four centuries in McLean," with each of the four tour homes representing a different century.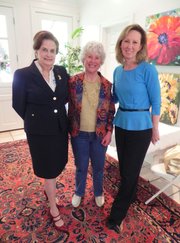 At the tea, club members welcomed Dranesville District Supervisor John W. Foust. Mr. Foust and his wife, Dr. Marilyn Jerome, are longtime supporters of the Woman's Club and offered their house for the Holiday Homes Tour in 2009. Other guests at the tea were Del. Barbara J. Comstock (R-34), honorary Homes Tour host Rear Admiral Kathleen L. Martin (Ret.), executive director of the Navy Marine Cost Guard Residence Foundation, including the Wounded Warrior Transitional Housing project at Vinson Hall; and the owners of two of the four homes on this year's tour. The tea was held at the McLean house of Susan Cooper Jordano, membership co-chairman of the Woman's Club, and her husband Tony Jordano.
December's tour will feature four houses, each of which represents a different century in McLean: a stone house reputedly built in 1754, a former public meeting house built in 1842, a colonial built in 1952 and later expanded and a uniquely modern home built in 2010. Each house will be decorated for the holidays and will highlight family life in McLean. In addition, Trinity United Methodist Church, at 1205 Dolley Madison Blvd., will host a MarketPlace, offering gifts and holiday items, a lunch and snack concession, and an auction that will sell chances on a variety of merchandise and services.
Woman's Club members have been working on preparations since February, when they began soliciting advertisements for the tour brochure. Additional efforts over the summer included selection of the homes, brochure preparation, publicity arrangements and plans for decoration.
All proceeds will be donated to local charities and nonprofit organizations, such as Share, Inc., Alternative House, the McLean Project for the Arts (The Children's Outreach), Claude Moore Colonial Farm, the McLean Volunteer Fire Department, Fisher House and the McLean Symphony, as well as used for scholarships and education.
The tour will take place on Thursday, Dec. 5, from 10 a.m. to 3 p.m. Tickets will be available in early October at local businesses, including Mesmeralda's Gifts of McLean, Karin's Florist of Vienna and Great Dogs of Great Falls or may be obtained at one of the homes on the tour.