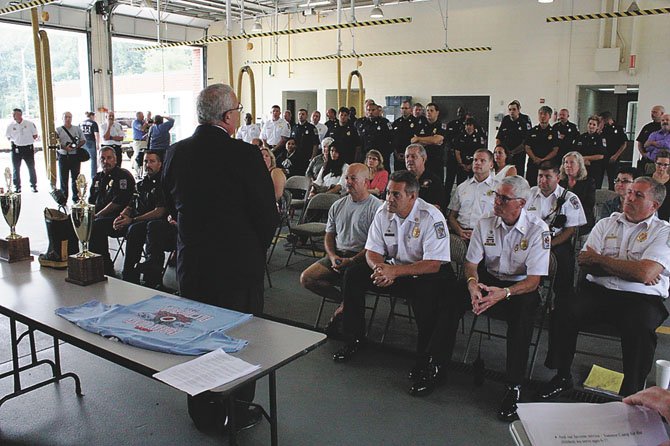 Fairfax County Professional Fire Fighters and Paramedics Local 2068 kicked off its annual Fill-the-Boot drive for the Muscular Dystrophy Association (MDA) on Wednesday, Aug. 28 at Fire Station 14 in Burke.
Year after year over Labor Day Weekend, the men and women of the Fairfax County Fire and Rescue Department staff fill busy intersections across the county seeking donations to support MDA's worldwide research efforts, summer camps, medical equipment and families living with muscle-wasting diseases.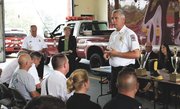 The International Association of Fire Fighters (IAFF) has been a partner with MDA since 1954 and is its largest national sponsor. Thanks to the generosity of Fairfax citizens and visitors, Fairfax County Local 2068 is the largest contributor in the Greater Washington area, having raised more than $4 million for MDA clinics, family support, and other MDA efforts in the region. Each year, the Fairfax Fire Fighters come in first or second in funds raised among IAFF affiliates across the nation.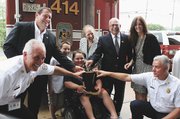 Fairfax County Fire Chief Richard Bowers and Local 2068 President John Niemiec were joined by dozens of fire fighters, paramedics and retirees, MDA families and elected officials including U.S. Rep. Gerry Connolly (D-11), County Supervisors Penny Gross and Pat Herrity, and Del. Eileen Filler-Corn.
Niemiec thanked the public for their strong support of the Fill-the-Boot campaign year after year.
Congressman Connolly said the success of the Fairfax County fire fighters and paramedics' Fill-the-Boot effort reflected their dedication to the public and to a fire department he described as "one of the best in the nation."