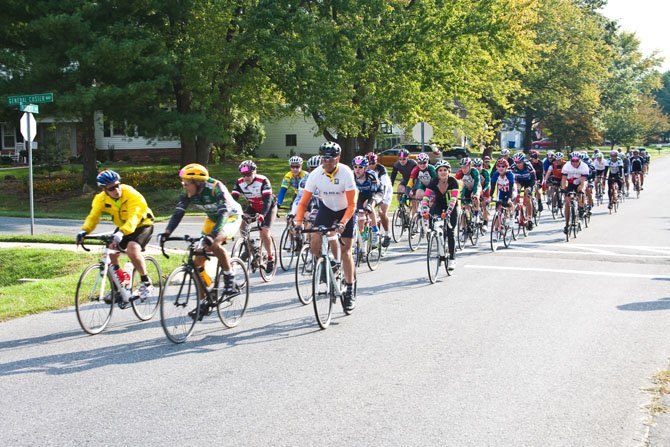 Alexandria — On Sunday, Sept. 22, the Lymphoma Research Foundation will hold its seventh annual Lymphoma Research Ride. Hundreds of present and former lymphoma patients, as well as families, friends and supporters, will embark on a fundraising bike ride on a 25, 39, or 50-mile route, through Montgomery County, Md.
The National Capital Chapter of the Lymphoma Research Foundation, which includes Washington D.C. and its surrounding areas in Maryland and Virginia, was formed seven years ago, according to Jennifer Davis, senior director of Chapters and Events for the Foundation. She added that this cycling event has raised millions of dollars for lymphoma research.
"Over the past seven years, the Lymphoma Research Ride has raised more than $2.5 million for lymphoma research, with last year's ride netting a record of more than 530,000 dollars raised," Davis said. "We are aiming to beat that number this year with a goal of reaching 550,000 dollars, and we are more than halfway there."
People of all different biking levels are encouraged to ride, even cyclists who have never pedaled even a mile, or have not been on two wheels in years.
"Currently, we have 248 individuals and 34 teams registered," Davis said. "We expect to have at least 300 participants across all skill levels join and ride for the cause through Montgomery County."
ONE OF THE 248 signed-up individuals is a current lymphoma patient, U.S. Navy Captain Jeanmarie Patnaude-Jonston of Alexandria. Jonston was diagnosed with Follicular Lymphoma Stage IV on June 4 of this year.
Jonston said her doctor, Dr. Bruce Cheson, who is also a member of the Lymphoma Research Foundation's Scientific Advisory Board, was the one who first approached her about the ride. Jonston figured that, as a 30-year deputy commander of administration in a variety of hospitals, she would be most effective not by riding, but instead by helping with the event administratively.
"When I first met Dr. Cheson, he asked me if I rode bikes," Jonston said. "I said, 'no, I don't, but that I'd be happy to help administratively.' Then, I thought, I wouldn't be able to solicit or request contributions that way."
Jonston said that although she is not experienced or even all that comfortable on a bike, she is determined to finish her 25-mile ride.
"It's 25 miles, and if I have to carry this bike, I will finish that 25 miles," Jonston said.
Due to her recent diagnosis, she only started fundraising in the last two and a half months. Still, due to the support of her military family and friends, she has been able to far surpass her starting goal.
"My first goal was about $1,000, and that was doable, so I changed my goal to $5,000," Jonston said. "Then it was $7,000 … and I am up to $7,510 today."
After sending a fundraising request e-mail to about 200 people in her personal and professional networks, she received donations from all over the country, and even from donors in Okinawa, Japan.
"These are military people and some civilian friends that have done this," she said. "It's just, amazing. A few people from my church donated. I am now hoping to raise $10,000 but I wasn't diagnosed until late ... I only started two months ago."
Jonston said it is important for people to keep advocating for lymphoma research and joining the battle against the disease.
"Nearly 80,000 patients get diagnosed every year with lymphoma, and many don't get diagnosed until the third or fourth stage," Jonston said, who was asymptomatic until she found a swollen lymph node in June. Now, she said, she has the disease everywhere, even in her bone marrow.
Jonston said that since she has been diagnosed with lymphoma, she considers it both a blessing and a duty to be Cheson's first patient in his clinical trial, for which she takes chemo type drugs daily and is scheduled for infusions as well.
"Dr. Cheson is one of the renowned cancer researchers in the country, and he sponsors this protocol and clinical trial," Jonston said. "I was interested in doing something untraditional, because we are not going to be able to move further if we are not doing research. Somebody has got to step up to the plate, and it has to be this new generation of newly diagnosed patients."
In the two and a half months since she has been diagnosed, she has maintained a positive attitude, and attributes it in part to not only her friends and family, but also to the dedicated medical staff at Georgetown.
"I haven't met anyone who is not super dedicated to what they are doing, and that is awesome," Jonston said. "You cannot ask for better treatment, and they are such a dedicated staff. I couldn't be in a better place. If you are going to get diagnosed with cancer, the D.C. metropolitan area is the best place to be."
Jonston said she is positive about her prognosis, and she would "take her odds to Vegas any day."
"Follicular lymphoma can be treated, but it never goes away," she said. "You can go into remission for a long time, but the cancer can come back. But, there is a 97 percent chance I will go into remission."
She said her experience has reinforced her belief in a higher power, saying she must be in the right place at the right time.
"It's timing, and I really, truly believe everything happens for a reason," Jonston said. "I should be living in Pensacola, Fla. with my husband, who is a retired Marine, but for some reason I decided to stay [in Northern Virginia] for another year."
Jonston has been training on a stationary bike for these last couple months. Still, she said she is still nervous about the challenge she faces on Sept. 22.
"I'm getting anxious," she said. "I am going to finish this, because my characteristics will not let me not finish. I am not really a big bike rider, but this too shall pass, and it will help me do better next year and raise more money for the cause."