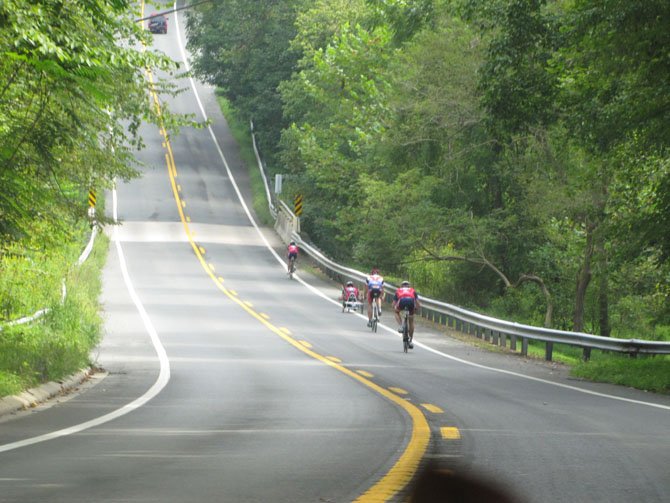 Potomac — Cycling Potomac's River Road is not for the weak.
In Their Own Words
Veterans who have participated in Ride2Recovery share their own thoughts about the program:
"A chance to sweat, try and succeed with like-minded people. To feel comraderie again."
"Building a bond of brotherhood, leaving the overwhelming feelings of loneliness behind me, making my family that much larger."
"It gave me confidence in myself again. It brought me close with other vets and people who understood what I had been through. It is such a great feeling. No other therapy or medication comes close."
"Being part of the team, unit, organization, movement, which lifts spirits, health, and wellness, to accomplish incredible feats of effort is life lifting."
"Life changing experience. I never thought how much I could do until this challenge. It has taught me that I can do more than I think and my self esteem has dramatically increased."
"Since my first ride I have ridden approximately 650 miles including this one. I know now that I am not doomed to die a slow non-active life. I now ride, dropping weight, socializing, reflecting on the past and for the longest time looking toward the future waiting to see what's next on my bike."
" Always a blessing and has done so much to continue to heal my PTSD."
"Not only does trips like these challenge me physically, some of the events, dealing with people, large crowds, enclosed areas, tunnels, traffic. I am extremely happy about that I can be with my family while going through."
"I needed to know that I can still perform. I can still do and be a functional soldier and a part of my community. Since my injury, I thought my body gave up on me. I needed to prove to myself that I can still do it."
"Once in a lifetime experience with some great men and women. Staff did great job with rider safety."
"This challenged me both mentally and physically. I was able to reach further heights and prove to myself there is still more for me to achieve in cycling."
"The opportunity to clear my mind from all the bad, challenge myself to complete an athletic feat I never thought possible. Inspiration from others and allowed to be me."
"This ride was fabulous. I'm so impressed with the concept and the tenor and attitude of the program. The camaraderie of experienced riders mixed with inexperienced riders is inspiring. Group cycling is fascinating. I learned so much ... thank you for this opportunity. I hope to come back. My PTSD is pretty bad."
"I needed this last year's journey to make this ride be my mental healing. Last night I slept like a baby for the first time in years. Riding back to the base I was supported and treated so great."
"I feel more capable now to face life's challenges head on."
"I needed this new experience in my life to show one I can overcome my injuries."
"It's one of the hardest things I've every done. It has shown me I can stick it out without quitting. It also shows me everyone needs help sometimes."
"This challenge allows me to ride with my fellow brothers and sisters that struggle with similar issues as myself and that really touches my life."
"The challenge and R2R in general saved my life. They bring light into the dark world my mind goes."
"My head is usually in a pretty bad state and these rides really help me out. Thank you."
"It reaffirmed that there are people who care about veterans."
"That I can still rise above and serve."
"In one word 'redemption;' looking back on my first challenge last October where I was being helped and dropped from groups, to being the pusher, riding my first century and riding A group. What else can I say? I am loving life and loving R2R!"
Hills on River Road can drop the equivalent of 10 stories in a mile, only to lead cyclists to the next steep climb of equal height. On Labor Day, one group of cyclists was reaching speeds of 50 miles per hour on the descents and then attacking the next hill. Some members of the group had no legs.
Labor Day weekend, Dr. Barbara Springer, a physical therapist and retired Army officer, trained and rode on River Road with a group of veterans, taking part in challenge rides requiring 300-350 miles of training each week.
This week, Springer flies to Germany to educate the German military what the Ride2Recovery and its Project Hero program is accomplishing with America's veterans.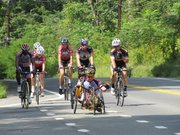 "I see people at the bedside when they first come to the veteran's hospitals," said Springer, of Potomac. "And when they reach this stage of their rehabilitation, it's eye opening." As of June 11, 2012, 48,505 U.S. Military personnel had been wounded in action in Iraq and Afghanistan, according to a scientific paper by Springer.
Ride 2 Recovery was founded in 2008 when a recreational therapist with the Veterans Administration thought cycling would be an alternative therapy to rehabilitation programs for PTSD, TBI (Traumatic Brain Injury) and physical injuries.
He called John Wordin, former manager of the Mercury Cycling Team, and "the first R2R Challenge event was on," according to Ride2Recovery's press materials.
The program enhances "the physical and psychological recovery of our nation's wounded, ill and injured service members and veterans through the sport of cycling," according to Springer, who has written scientific articles about the medical benefits of cycling on the rehabilitation process. "Ride 2 Recovery's most notable endeavor is Project HERO (Healing Exercise Rehabilitation Opportunity) which uses staff members and volunteers to promote cycling as an integral part of rehabilitation at select military facilities to enhance physical, psychological, spiritual and social recovery."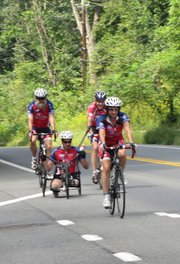 The program expanded from the first Challenge ride to seven Challenges annually, including one in Europe, with 200 riders and 20+ staff riding 350-500 miles.
The physical, mental, emotional and social benefits is all vital to the rehabilitation process. The benefits to injured active duty and retired service members was palpable and incredible, said Springer and Debora Sprano, spokesperson for the program.
"When they get here, they can reestablish the camaraderie with liked-minded people. They bond over that," said Sprano. "When they were wounded, they were removed from their unit and taken away from their brothers."
One participant said: "The R2R events allow me to be around the foundation of why we were all or now in the military. Focused intent/mission, brotherhood of like-minded individuals, teamwork, aggressive, motivated folks able to connect and bond through sharing physical and mental challenge through cycling. It just doesn't get much better than that."
"Being part of the team, unit, organization, movement, which lifts spirits, health, and wellness, to accomplish incredible feats of effort is life lifting," said another.
Ride2Recovery and its programs have distributed more than 3,000 bikes to veterans of wide ranges of disabilities and injuries, said Sprano.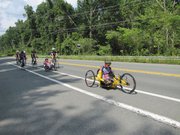 Project Hero was created to enhance, inspire, and challenge Healing Heroes' rehabilitation by introducing them to Ride 2 Recovery. "Hosted at military installations and VA facilities, each participant sets individual goals while working in a group. In partnership with local facility staff and cadre, the Project HERO provides personalized and progressive cycling programs that fits the needs of the patient population and promotes a fuller and quicker rehabilitation."
In 2008, 55 participants rode in Ride2Recovery events in California and Washington D.C. and 20 cycles were distributed. Last year, 1,200 riders participated in rides throughout the year and 450 cycles were distributed.
Specialized mechanics with the program adapt cycles for anyone.
One veteran with three amputated limbs was training on River Road Labor Day weekend, passing the 50 miles per hour speed limit on downgrades, and pushing forward on River Road's upgrades.
Key events for R2R include the 9/11 American Challenge which started near Ground Zero and finished at the Pentagon, Normandy Challenge which traced the steps of D-Day and subsequent battles, and the signature annual events, California Challenge from San Francisco to LA along the coast and the Memorial Challenge from D.C. to Virginia Beach. Other Challenges have been held in the Bluegrass states, Colorado, Gulf Coast, Great Lakes, New England and Texas.
By the Numbers: R2R
1,890
Bikes given to participants
200
Adaptive bikes built by R2R
38
Project Hero programs nationwide
12
Retired Veterans on staff
5,000-plus
Riders in the R2R program
200
Riders per Challenge
27
Total Challenges (as of April 2013)
11,000-plus
Total miles traveled
26
States traveled through on Challenge Rides
"A Challenge pushes participants to their limit, both physically and mentally. These Challenges bring active duty military and injured veterans from all branches of the U.S. military to ride in a group of 150-200 cyclists providing a sense of normalcy, accomplishment, pride, camaraderie and relief from depression and other problems that accompany their recovery and rehabilitation," according to press materials.
"It's really about physical and mental rehabilitation, being with a group of people people again is a huge step towards the healing process," said Sprano.
"I've seen people do a complete turn around," said Springer.