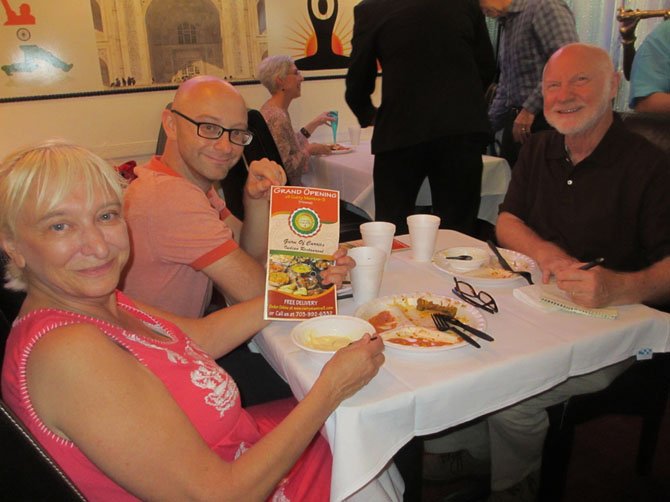 The only topic Vienna-Oakton readers like to read about more than festivals is about restaurant openings. This is one.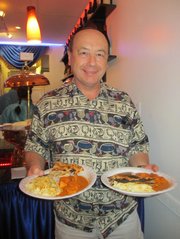 Curry Mantra 3 turned upside-down the adage, "there's no such thing as a free lunch," on Sept. 8. Not only did the new restaurant at Cedar Park Shopping Center serve free lunch to celebrate its grand opening, it served free dinner, as well. Vienna guests and loyal customers from Curry Mantra 1 and 2 lined up at the door in support of Vienna's newest entry into the town's burgeoning restaurant scene. A hostess manning the door let people in as guests left—that's how busy it was.
"We are different from other Indian restaurants in Vienna because we're a little more upscale than most curry houses," owner Asad Sheikh said. "We're celebrating festivals of India," he said, pointing to the wall murals.
Sheikh said he and Curry Mantra 3 will support the community any way they can. Curry Mantra 1 opened in Fairfax three years ago, and Curry Mantra 2, six months ago. Sheikh lived in Vienna for seven or eight years before moving to Falls Church about three or four years ago, he said. "I love Vienna, I used to live here. I love the people of Vienna," Sheikh said. "The people of Vienna are very loyal to local businesses."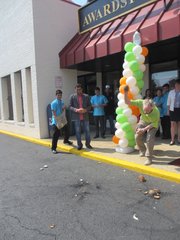 Curry Mantra 3 serves regional dishes from all over India, the owner said. The chef is London-born and raised. And diners who commented on the food raved about it.
"It's fantastic," said Matt Barnes of Vienna, at a table of emptied plates with his parents Gene and Ella Barnes. "It's spicy without overpowering the flavor of the food and they use good-quality meats."
Ella Barnes was finishing up her dessert of rice pudding. "It's perfect," she said. "Not too sweet, and it smells divine. It's very delicious, with the right blend of spices."
Setting itself apart from the typical ribbon-cutting ceremony, Curry Mantra 3 went a step further: staff and guests threw fresh coconuts to the ground, breaking them in pieces. It's supposed to bring good fortune. If the lines were an indication, good fortune will stand with the restaurant.
Appetizers range from $5 to $7. Mixed vegetable pakora is $5; palak angoori is $7, for example. Vegetarian main courses run $13 to $15, and meat specialties—chicken, lamb, goat, seafood and tandoor meats, range from $15 to $18. Main dishes unique to the Vienna restaurant include Kashmir kofta, Kabuli lamb and a signature dish of chicken tikka, malai kebob, boti kebob and tandoor shrimp.
Aalap Shah manages Curry Mantra 3.
Curry Mantra 3 is in the Cedar Park Shopping Center at the intersection of Park Street and Cedar Avenue. The restaurant is open every day. Buffet lunch is served from 11:30 a.m. to 2:30 p.m., Monday through Saturday, and dinner is served from 5 to 10 p.m. daily.
There is free delivery within five miles and diners can order their meal online at www.currymantra3.com. Phone 703-992-6332 for reservations.